Eric Winslow picked up his third career Late Model victory and Tyler Horne picked up his first career win in a pair of sensational Late Model duels at Carteret County Speedway on Saturday night.
Winslow picked up the win in the first race which was nothing short of breathtaking.  For much of the race, it looked like it would be a duel between Connor Hall and Tyler Matthews.  Matthews took the lead from Hall in the middle stages of the race and holding on until there were just two laps left.  Entering turn one, Matthews spun off the front bumper of Hall and slammed into the outside wall, ending his run.
Hall was penalized for the contact, which resulted in Rusty Daniels inheriting the lead.  However, on the first attempt at a Green-White-Checkered finish, Daniels would get wrecked from behind when Winslow and Horne made contact battling for second.  The incident also collected Chris Burns.  When the smoke cleared, a second attempt at a Green-White-Checkered finish was made with Winslow, who had started the race at the rear of the field, holding on to score the win while Horned edged Haley Moody at the line for second.
"I can't believe it," Winslow said in victory lane after the race.  "We've been fighting this car.  I reckon at South Boston, I screwed it up.  I don't know what I did to it but we fixed it.  We busted our asses all week.  The earliest we went to bed this week was 12am.  I was going to bed at 3am every night.  I'm so glad we brought this thing."
The victory was Winslow's third career win at Carteret County Speedway, but the first with a car he affectionately calls PB, which he built from scratch out of his garage in Danville, Virginia.
"I can't really believe it, you know what I mean," Winslow continued.  "To win with a car you build out of your own shop.  Like, I know how long each piece of metal is.  I know what temperature I welded it at on the welder.  So many hours go it and we built it ourselves.  I'm so proud.  I'm just so happy, I don't know what to say.  I'm glad I came here, I love this place and I love the fans here."
Haley Moody's third place finish was her best result in a Late Model Stock Car race since July 2015.  For Moody, who has only competed in a handful of races in the past couple seasons, it has been a long road back to the podium and she feels like she's closing in on getting her first win since September 2014 when she clinched the Limited Late Model championship at Southern National Motorsports Park in Lucama, North Carolina.
"We had a really good racecar," Moody said.  "At the beginning of the race, it wasn't too good so we came in and made some adjustments and went the right way and we were pretty good.  We've had some bad luck.  We made Martinsville which was good, one of my accomplishments, but I think we have a good car and this is an uphill thing right here."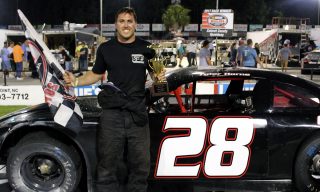 As exciting as the first race was, the encore presentation in the second race was just as intriguing.  Jim Kelley, who is chasing his 199th career victory, dominated for much of the race until there were seven laps remaining when he crashed in turn one with assistance from Michael Tilley.  Tilley was penalized by race control for aggressive driving and sent to the rear – however, Tilley parked his car instead.
That sequence of events resulted in Tyler Horne inheriting the lead – and, eventually, the win.  Horne pulled away from Rusty Daniels to score his first career Late Model Stock Car victory and becoming the fourth different driver to score their first career Late Model victory at Carteret County.
"That definitely wasn't easy, especially coming from the back," Horne said.  "We had the car rolling there until about, I don't know when we lost it but we lost the clutch panel the last two restarts, so we kind of had to start that last restart in fourth gear but the car was just so perfect that we couldn't stop.  We struggled last year but we've got something to work with."
Rusty Daniels, a multi-time winner at both Southern National Motorsports Park and East Carolina Motor Speedway, was happy to bring the car home in one piece but felt like he should have come away with a win in either, if not both, of the races.
"Can't thank the crew enough," Daniels remarked.  "We didn't even get the car to stop rolling when we started fixing panels and putting things back together.  I just can't say 'congratulations', I feel like I've been stolen two times tonight."
In the first race, Daniels was leading when he was taken out in "the big one", but his frustration was not limited to just that incident.
"It looked to me like [Horne] jumped the restart," Daniels commented.  "But that's just my opinion."
Eric Winslow went on to finish third in the second race while Tyler Matthews rebounded from the damage received in the first race to finish fourth and Haley Moody came home in fifth.
Official Race Results
Race #1
Eric Winslow
Tyler Horne
Haley Moody
Tyler Matthews
Connor Hall
Rusty Daniels
Chris Burns
Jim Kelley
Michael Tilley
Michael Fose
Race #2
Tyler Horne
Rusty Daniels
Eric Winslow
Tyler Matthews
Haley Moody
Chris Burns
Jim Kelley
Michael Tilley