Luke Sorrow came into the 2018 season looking to win the Anderson Motor Speedway Late Model Stock Car track championship and when the final checkered flag waved, it was mission accomplished for the young driver.
Sorrow didn't have an easy road to get the title however as he had to fend off former Anderson Motor Speedway track champion, Trey Gibson for the honor. Sorrow and Gibson had a great season-long battle that saw Sorrow pick up three wins along with 13 top-five finishes.
While Gibson didn't win as many races, the two stayed locked together all season long and came into the season finale knowing whoever beat the other was going to win the championship. The final night of racing featured twin races and just like the rest of the season, they would be right there at the front of the field.
"It was me and Trey all season," Sorrow told RACE22.com. "We went back and forth every week. It seemed like he qualified second every week and led laps and we would slip by him late in the race. Trey is a good competitor and it was a battle all the way to the finish."
In race one, Gibson picked up the win, which was his first and only of the season. He led the points at this point and only needed to finish second to pick up the championship. Sorrow did all he could to win the championship by putting his car out front of the field in race number two. As the laps clicked off Gibson encountered trouble and starting losing power costing him the second finishing position and ultimately the championship as Sorrow picked up the win and his first track championship by just two points.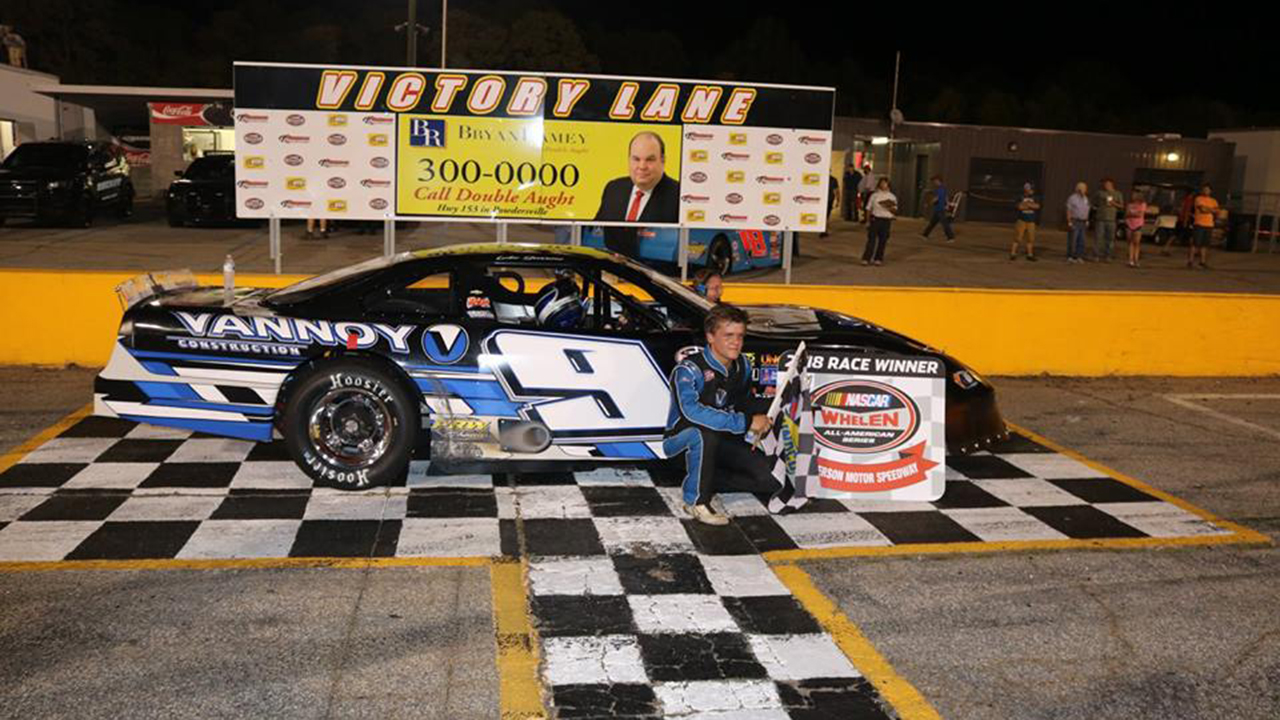 Sorrow's season had started off slow with a seventh and tenth place finish in twins on night one of the season but the 17-year-old driver rebounded fast picking up the win in the second race of the season. From there Sorrow was up front in pretty much every race contending for wins.
"We wanted to win the Anderson title. The first race we came out and we sucked. It was our worst race all season. We sucked and we went back and changed everything and came back and won the next race."
Sorrow's three wins were the most by any driver at Anderson during what was an extremely competitive season on the 3/8 mile track. Nine different drivers visited victory lane in just 14 races and only three other drivers won more than one race all season long.
Sorrow contributes his success to his dad Marc, brother Justin and his spotter and friend Lee McCall. McCall is a former Monster Energy NASCAR Cup Series crew chief most known for his time atop Sterling Marlin's pit box. McCall and Sorrow are friends and spend a lot of time hunting during the off-season. He's also instrumental in Sorrow's success.
Sorrow who's supported by Vannoy Construction and JMS Electrical will return to Anderson Motor Speedway in 2019 as well as run races at the other two NASCAR Whelen All-American Series sanctioned tracks in South Carolina, Myrtle Beach Speedway and Greenville-Pickens Speedway. Sorrow is hoping to win the NASCAR South Carolina State Title.