Through the first three races to open the season at Kingsport Speedway, Zeke Shell of Johnson City was a strong threat to visit victory lane, recording one runner-up finish along with two third-place showings.
Friday night the 30-year-old Shell was fastest in NASCAR Whelen All-American Series Late Model Stock Car qualifying at 14.993 seconds, with Kres VanDyke second quickest at 15.190. Following the invert, Ronnie McCarty and VanDyke led the 17-car field to green from the front row, with Shell and Nik Williams in row two.
VanDyke and McCarty raced side-by-side the opening eight laps before VanDyke grabbed the lead. Behind VanDyke and McCarty, Shell, Robbie Ferguson and Williams were in tow. Shell got around McCarty for second just prior to caution flag on lap 15 when Mardy Roberts spun between turns one and two which also collected Rick Pannell.
Off the ensuing double-file restart VanDyke and Shell raced hard before Shell powered into the lead on lap 18. Behind Shell and VanDyke the top 12 cars were all running on the same straightaway. McCarty, Ferguson, Williams and Wayne Hale were running nose-to-tail, while Joey Trent, Dillon Hodge, Bryson Dennis, Trey Bayne, Derek Lane and Darin Silver were in tow.
Shell and VanDyke clearly were class of the field, as at the halfway distance they had pulled out to right at full-straightaway advantage over those in pursuit. The race would ultimately only last two more circuits, as a serious crash on lap 32 quickly brought out the red flag to stop the field.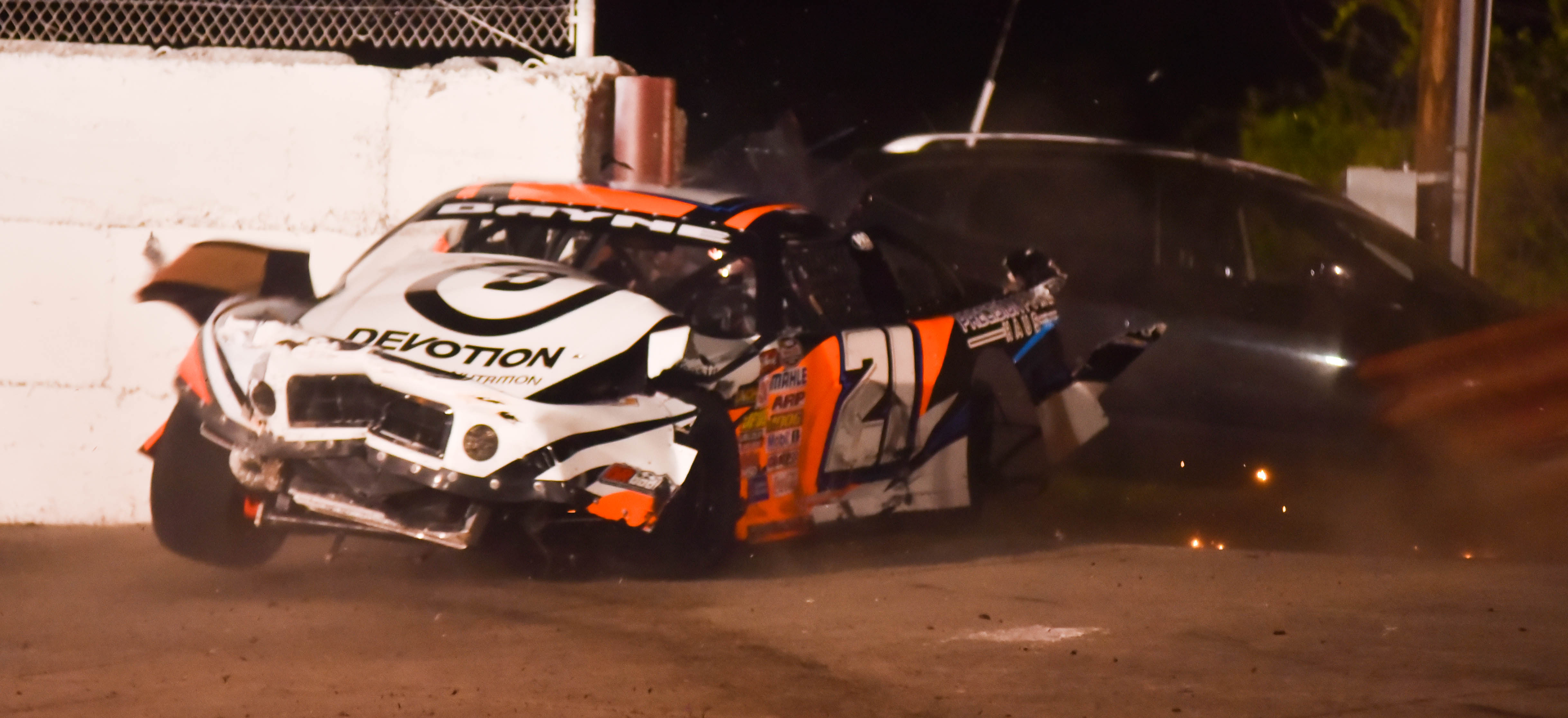 Rookie Trey Bayne, 14-year-old brother of NASCAR Monster Energy Cup Series driver Trevor Bayne, made contact with Derek Lane near the flag stand and first turned across Lane's nose into the outside wall, before wildly careening out-of-control and slamming violently into the turn one outer pit gate. The force of the impact broke the pit gate, which led to a decision by track management to end the night of racing due to being unable to safely make repairs to the damaged crossover gate.
Shell got his first win of the season over VanDyke, McCarty, Ferguson and Williams. Completing the top 10 finishers were Hale, Trent, Hodge, Dennis and Bayne.
"I guess a win's a win, whether you complete every scheduled lap or just get past the halfway point of the race," Shell said in the pits while post-race technical inspection of the top-three Late Model Stock Car finishers was taking place. "We had a really good piece (race car) from time we first unloaded for practice, and I felt long as the driver didn't mess up qualifying we'd be quickest – and ultimately we were the only car to be in the 14s (14.993 seconds). With the invert putting us starting from the second row, there on the beginning, we were just riding behind (Kres) VanDyke and (Ronnie) McCarty as they raced side-by-side for several laps. Once VanDyke cleared McCarty to take the lead, I began working on McCarty for second.
"When the caution waved when the 55 (Mardy Roberts) and 33 (Rick Pannell) spun between turns one and two, I told my guys over the radio that we were going to take the lead off the double-file restart. VanDyke and I raced hard a couple of laps before I got past him, and we began pulling away from those (cars) behind us. It's always good to get your first win of the season. With my dad (Pat Shell) and crew chief Danny Rollins calling the shots, we're on a mission this season. We're arriving at the track wanting to be fastest in qualifying and at night's end parking in victory lane with a W (win). Taking home trophies is our goal each week."
Results:
1. Zeke Shell #1-Johnson City, TN
2. Kres VanDyke #15-Abingdon, VA
3. Ronnie McCarty #5-Kingsport, TN
4. Robbie Ferguson #7-Jonesborough, TN
5. Nik Williams #32-Greeneville, TN
6. Wayne Hale #19-Bluff City, TN
7. Joey Trent #26-Gray, TN
8. Dillon Hodge #5-Kingsport, TN
9. Bryson Dennis #15-Greeneville, TN
10. Trey Bayne #21-Knoxville, TN
11. Derek Lane #28-Kingsport, TN
12. Darin Silver #12-Spruce Pine, NC
13. Bret Baer #24-Greenback, TN
14. Kyle Lockrow #7-La Plata, MD
15. Billy Light #8-Bluff City, TN
16. Rick Pannell #33-Kingsport, TN
17. Mardy Roberts #55-Kingsport, TN