Mike Looney and Boo Boo Dalton each picked up wins in Sunday's Late Model Stock Car doubleheader at Franklin County Speedway in Callaway, Virginia.
Looney, who came in with plenty of momentum after winning at Motor Mile Speedway a week earlier, qualified on the pole for the first of the two 50 lap races and led wire-to-wire to pick up the victory.  The victory, Looney's first Franklin County Speedway win of 2017, was redemption after he struggled in the season opener back in April.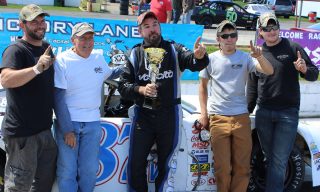 "Nobody's going to come down here and cherry pick this class this year," Looney explained.  "There's some really good drivers and good equipment.  We've been doing our homework.  We've actually tested here more than we've tested Motor Mile this year.  We're working really hard.  First race, we just missed it.  We thought we had the car pretty good.  It's kind of a crapshoot with a roll of the dice what kind of tires you're going to get.  We got a good set this week."
Looney, who was once known for his bad luck, has had a lot of success in recent years driving for Billy Martin Racing.  Since teaming up with Martin in 2014, Looney has won several races at Franklin County Speedway and Motor Mile Speedway and, last fall, Looney scored the biggest win of his career in the Valley Star Credit Union 300 at Martinsville Speedway – the biggest and most prestigious race in Late Model Stock Car racing.
"Want to thank the Lord for blessing me with a good team with Billy Martin Racing," Looney remarked.  "I've driven for seven different teams and this is the happiest and most successful I've ever been.  We used to call ourselves Black Cloud Motorsports but that is not more, the black cloud is gone, it's just Billy Martin Racing now.  Best place to be a part of."
After the first race, the top-four finishers were inverted, which put Dennis Holdren on the point to start the second 50 lap duel.  Holdren led the first 27 laps of the race, but was quickly reeled in by fifth place started Ross "Boo Boo" Dalton.  Dalton made the pass on Holdren for the lead, and the win, on lap 28 and never looked back as he drove away from the competition.
"We kind of rode that first race there," Dalton said.  "We didn't really have that great a set of tires all day.  We had two tires laying over there that we had been saving for this second race.  We knew, if we could save those tires for the second race and save the insides for this race, that we should have a pretty good shot at it.  We really rode hoping for an invert.  Fifth is a pretty good number.  We werre hoping they would invert seven so we could get up front.  Of course, they inverted fourth so I stayed fifth.
"I won Caraway Friday night from fifth place.  My brother in law won in the Charger class at Caraway from fifth place.  We're starting to believe, if we start fifth, that's our lucky number."
After the race, Dalton echoed Looney's sentiments about the caliber of competition at Franklin County Speedway.
"We had a lot of seconds and thirds here," Dalton said.  "We just haven't been able to seal the deal.  Thank God we finally did.  It's a big relief.  This track is way different from any track on the East Coast.  It's small, it's probably the fastest track on the East Coast and it is a hard to get a hold of.  This racecar likes it when it's on good tires and we knew if we could put those two good tires on the second race that everyone would burn their stuff up in the first race and we wanted the second one more than the first."
The victory was Dalton's second career Late Model win at Franklin County Speedway.  Last summer, he inherited a win after Mack Little was disqualified following postrace inspection.
Jason Warsing scored the victory in a wild Street Stock race that was slowed by a handful of cautions and a lengthy red flag period.  Warsing held off a fierce challenge from Michael Worthington to score his second consecutive Franklin County Speedway Street Stock victory.  Tony Housman picked up the win in the U-CAR feature over WJ Altizer, his second consecutive victory.  Meanwhile, Chad Burnopp took advantage of Scott Foley's misfortunes to score the victory in the Mini Stock feature, his first of the second.
Franklin County Speedway will be back in action on Saturday, May 20th with the Commonwealth Clash featuring twin races for Late Models and Mini Stocks as well as Street Stocks, U-CARs and the Blue Ridge Mini Cups.
Unofficial Results
Late Model Stock Car – Duel #1
Mike Looney
Kelly Kingery
Jason York
Dennis Holdren
Boo Boo Dalton
Devin Steele
Kyle Dudley
Daniel Hutson
Chris Carroll
Jonathan Hall – DNS
Late Model Stock Car – Duel #2
Boo Boo Dalton
Dennis Holdren
Mike Looney
Kelly Kingery
Devin Steele
Daniel Hutson
Jason York
Chris Carroll
Kyle Dudley – DNS
Jonathan Hall — DNS