Kingsport Speedway held its annual Roger Neece & Tony Ward Tribute Night on Friday remembering two very popular drivers that have passed away over the past few years.
Nik Williams of Chuckey for the second straight week swept the NASCAR Whelen All-American Series twin Late Model Stock Car features, overall making it five consecutive wins for the 21-year-old.
Kres VanDyke was fastest in Late Model Stock Car qualifying at 15.027 seconds, with Williams close behind in second at 15.060. Williams wasted no time in flexing his muscle as he grabbed the lead over VanDyke, Hayden Woods, Zeke Shell and Trey Bayne.
Strong as Williams has been running the past couple of weeks, basically with him out front the race was his to win unless mechanical issues occurred. VanDyke stayed within striking distance, while 14-year-old Bayne worked his way around both Shell and Woods into the third spot.
But there would be no catching Williams out front as he easily captured the win over VanDyke, Bayne, Woods and Shell. Completing the top 10 finishers were Robbie Ferguson, Ronnie McCarty, Wayne Hale, Joey Trent and Trey Lane.
While Woods and Shell battled for position on the start, Williams was just waiting for the pair to get in single file before he began working his way to the front. Behind Woods, Shell, Williams and VanDyke, followed Trey Bayne, Wayne Hale, Ronnie McCarty, Robbie Ferguson and Joey Trent
Per NASCAR Whelen All-American Series rules, the top eight finishers are inverted when track's host twin features. The front row for the second 35-lap race had Hale and McCarty leading the field to green. The veteran Hale jumped out to the lead over McCarty, Ferguson, Woods and Shell.
Hale's lead was short-lived, as McCarty drove around him on the second lap racing up off (turn) two to move ahead. VanDyke passed Shell for the fifth spot on lap 5.
With McCarty all alone out front, behind him the battle for position was intense between Hale, Ferguson, Woods and VanDyke. Kingsport Speedway's version of the "big one" happened on lap 14, when contact between Hale and Ferguson created chaos exiting the fourth turn onto the front straightaway.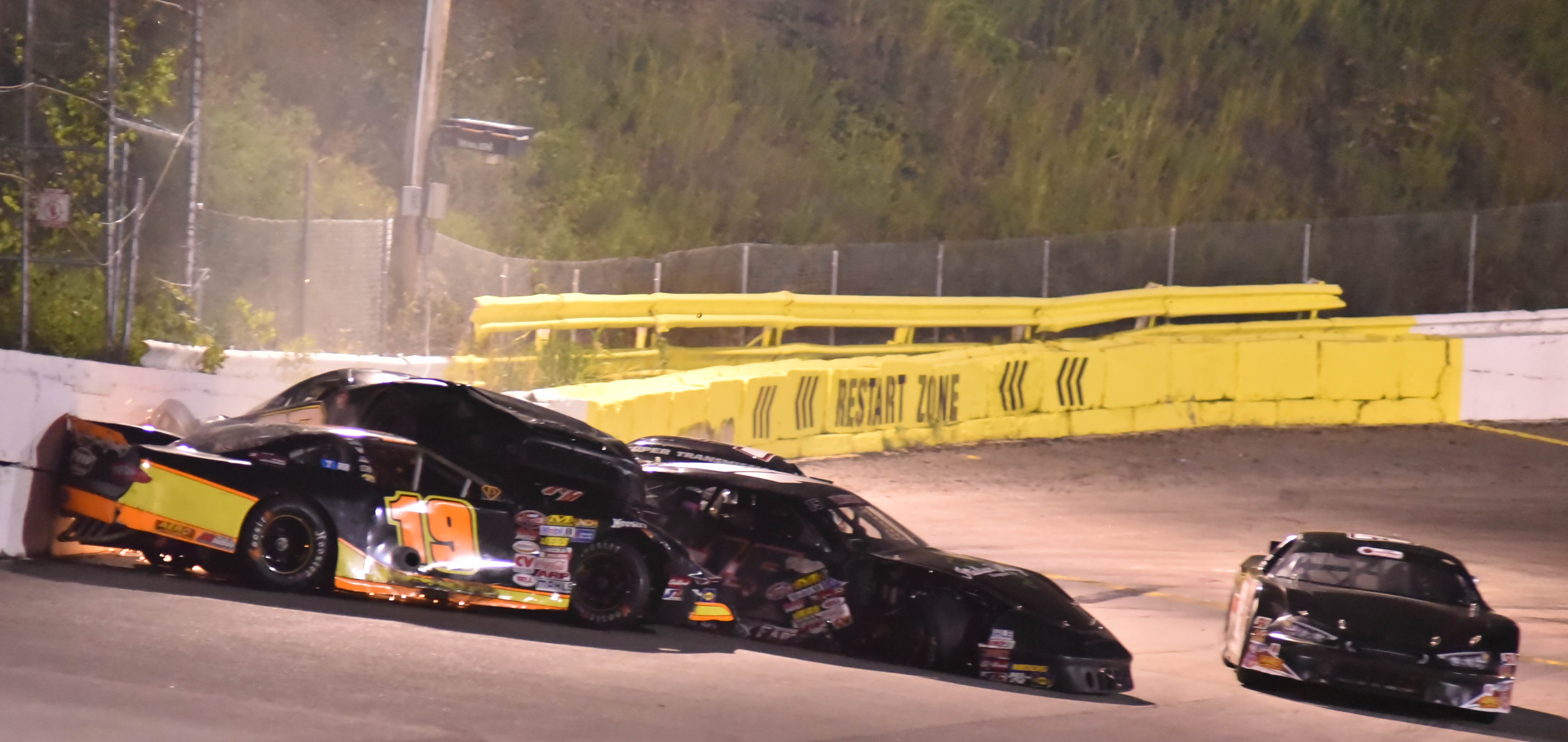 Hale's car turned sideways and with nowhere to go Woods, VanDyke and Shell all piled in together, with Woods car coming to a rest sitting on top of Hale's ride to bring the red flag out for the blocked track. With safety crews quickly on the scene along with track officials, Hale and Woods were able to climb from their badly damaged cars while both VanDyke and Shell headed into the pits for attention from their crews.
Off the ensuing double-file restart, McCarty took the lead over Ferguson, Williams, Bayne and Trent. Racing off the fourth turn on lap 18, Williams took second place from Ferguson. The event's second caution waved on lap 20 when VanDyke suddenly slowed to a stop in the fourth turn.
McCarty and Williams battled for the lead off the double-file restart, and before they could get back around to complete one green flag lap on the scoreboard, Williams nudged McCarty to get his car out of shape in the fourth turn. That was all it took for Williams to take a lead he would never relinquish.
Behind leader Williams, McCarty and Bayne battled for the runner-up position. It's said in racing that rubbing is racing. Well, it can also lead to wrecking. Caution waved on lap 29 when Bayne spun between turns three and four. Both Bayne and McCarty were sent to rear of the field for the restart.
Williams once again grabbed the lead off the double-file restart and went on to take his second Late Model Stock Car win of the night over Ferguson, Derek Lane, Trent and Trey Lane.
LATE MODEL STOCK CAR #1 (35 laps)
1. Nik Williams #32-Chuckey, TN
2. Kres VanDyke #15-Abingdon, VA
3. Trey Bayne #21-Knoxville, TN
4. Hayden Woods #87-Piney Flats, TN
5. Zeke Shell #1-Johnson City, TN
6. Robbie Ferguson #7-Jonesborough, TN
7. Ronnie McCarty #5-Kingsport, TN
8. Wayne Hale #19-Bluff City, TN
9. Joey Trent #26-Gray, TN
10. Trey Lane #4-Kingsport, TN
11. Bryson Dennis #15-Greeneville, TN
12. Darin Silver #12-Spruce Pine, NC
13. Derek Lane #28-Kingsport, TN
14. Rick Pannell #33-Kingsport, TN
15. Dillon Hodge #5-Kingsport, TN
LATE MODEL STOCK CAR #2 (35 laps)
1. Nik Williams #32-Chuckey, TN
2. Robbie Ferguson #7-Jonesborough, TN
3. Derek Lane #28-Kingsport, TN
4. Joey Trent #26-Gray, TN
5. Trey Lane #4-Kingsport, TN
6. Zeke Shell #1-Johnson City, TN
7. Bryson Dennis #15-Greeneville, TN
8. Hayden Woods #87-Piney Flats, TN
9. Trey Bayne #21-Knoxville, TN
10. Darin Silver #12-Spruce Pine, NC
11. Ronnie McCarty #5-Kingsport, TN
12. Dillon Hodge #5-Kingsport, TN
13. Kres VanDyke #15-Abingdon, VA
14. Rick Pannell #33-Kingsport, TN
15. Wayne Hale #19-Bluff City, TN