Greensboro, North Carolina native Louis White arrived at East Carolina Motor Speedway last weekend with a lot of confidence going into the 2018 season at the track. White and his team had frequently tested his brand new #7 Late Model several times leading up to that weekend, and believed that the speeds the car posted would make him a favorite to win East Carolina's Late Model track championship.
The promising weekend for White came to an abrupt end during the first lap of practice on Saturday afternoon, when the throttle on White's Late Model stuck as he was going into the first turn. White had no chance to slow the car down as it hit the outside guardrail with enough force to launch the car outside of the track, where it barrel rolled a couple of times before finally coming to a stop just outside of a forest clearing.
"I had no idea that the guardrails weren't going to hold," White said. "I probably went 30 feet into the air off the embankment before the car even hit the ground. A whole bunch of cars have hit there, but mine is the first car I've ever seen that has left the track."
Track promoter John Vick was present during the opening practice session, and although he did not see the crash unfold, he was among the people present at the crash site. Vick has been a part of East Carolina's growth over the past several years, and admitted that White's flip was the worst crash he has ever seen at the facility.
"My first reaction was that I was hoping he was okay," Vick said. "My next reaction was that I could not believe how good the safety equipment is in Late Model Stock Cars. I didn't think something like that could happen, and it has never happened in the years that I've been there."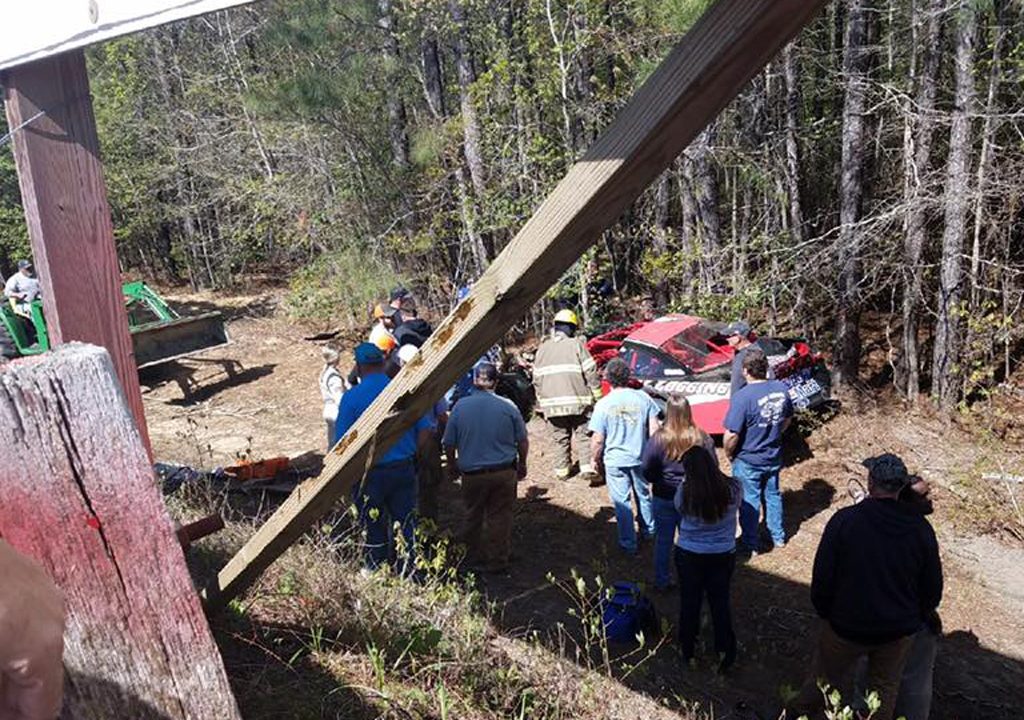 East Carolina Motor Speedway is one of the newest short tracks on the east coast, as construction was completed in 1990, but the facility has worked to add several auto-racing divisions to the track's schedule alongside its weekly racing series. The UARA STARS Late Model Series made only one visit to the track during its 2004 season, while the NASCAR Whelen Southern Modified Tour competed there in its final season of operation, where Bobby Measmer Jr. held off Danny Bohn to pick up his first and only victory in the series.
The track has also hosted several special events over the past several years, with the most notable one being the season-ending Ronnie Barnette Memorial, which has attracted several notable Late Model racers such as Deac McCaskill and Justin Johnson, and was won by White in 2014 and 2016. The Mischa Sell Memorial was held at the speedway on August 26, 2017, which saw track regular Wesley Johnson hold off White in the final laps to pick up the victory.
Vick is proud of everything the track has accomplished in recent history and that it has been successful in luring some of the best Late Model competitors, but understands that changes need to be made in order for the track to keep progressing in its development. Vick added that the speedway did add some reinforcement for Saturday's on-track activity after White's accident, and that it is actively working with its competitors to ensure that everyone feels safe going forward.
"We have made a conscious decision in the last couple of days to put some reinforcement in the walls, such as steel beams and a catch cord," Vick said. "The track has been there for over 20 years, and normally something like that doesn't happen, but normally a throttle doesn't stick on the front straightaway either."
For White, Saturday's accident is expected to put an end to a career that has included many victories at East Carolina and Southern National Motorsports Park. Although he walked away from the accident uninjured, White had made plans to start winding down his career during the 2018 season, with the Late Model he brought to East Carolina serving as the last new car he built from the ground up, as well as the only car remaining in his stable.
A quick inspection of the remains of White's #7 Late Model concluded that it was damaged beyond repair, which put any plans for White to get behind of the wheel of a Late Model on indefinite hold. Rather than make a concentrated effort to find another car for the season, White has come to terms with the accident, and understands that circumstances will likely prevent him from competing in Late Models again.
"I've had two or three people that have called me and told me that I can have their car, but I don't want to take anyone else's car and have something happen to it," White said. "I want a winning car too, and I've won right many races during my career, and I don't want to go out there and run in the back of the pack. If I don't think I can win, then I don't want to be out there."
White has not had a conversation with Vick or any other track officials following his crash on Saturday, but added that he feels it would be unnecessary. White is confident that the track will make the necessary changes that will prevent similar accidents from happening the facility, and keep bringing in new and old competitors from all around the east coast.