Zeke Shell was fastest in Late Model Stock Car qualifying at 15.033 seconds, with defending track champion Kres VanDyke close behind at 15.098. The top six from time trials were inverted, placing 14-year-old Sullivan South High School freshman Dillon Hodge on the pole, with Hale to his outside on the front row.
Hale powered into the lead at the start over Derrick Lancaster, Shell, Hodge and Robbie Ferguson. Both Ferguson and VanDyke got around Hodge on the third lap racing off the fourth turn, which also opened the door for Nik Williams to overtake Hodge for the sixth spot.
While the top six cars of Hale, Lancaster, Shell, Ferguson, VanDyke and Williams were running nose-to-tail at lap 20, behind them was a good battle for position among Hodge, Ronnie McCarty, Bryson Dennis, Taylor Coffman, Trey Bayne, Joey Trent and Derek Lane.
Allen Hawkins slowed in a shower of sparks coming from underneath the right-front of his car high in turn two on lap 23 to bring out what would be the only caution period in the 60-lap feature.
Off the ensuing double-file restart, Hale once again grabbed the lead while behind him Lancaster and Shell, along with Ferguson and VanDyke, battled side-by-side for position. Lancaster moved ahead of Shell racing up off (turn) two on lap 25, and the next circuit VanDyke passed Ferguson.
With the race running clean-and-green following the caution on lap 23, Hale remained in command out front. Shell turned up the pressure on lap 45 trying to get around Lancaster, and finally on lap 50 racing off the fourth turn Shell completed the pass. Over the next couple of circuits both VanDyke and Williams worked their way past Lancaster.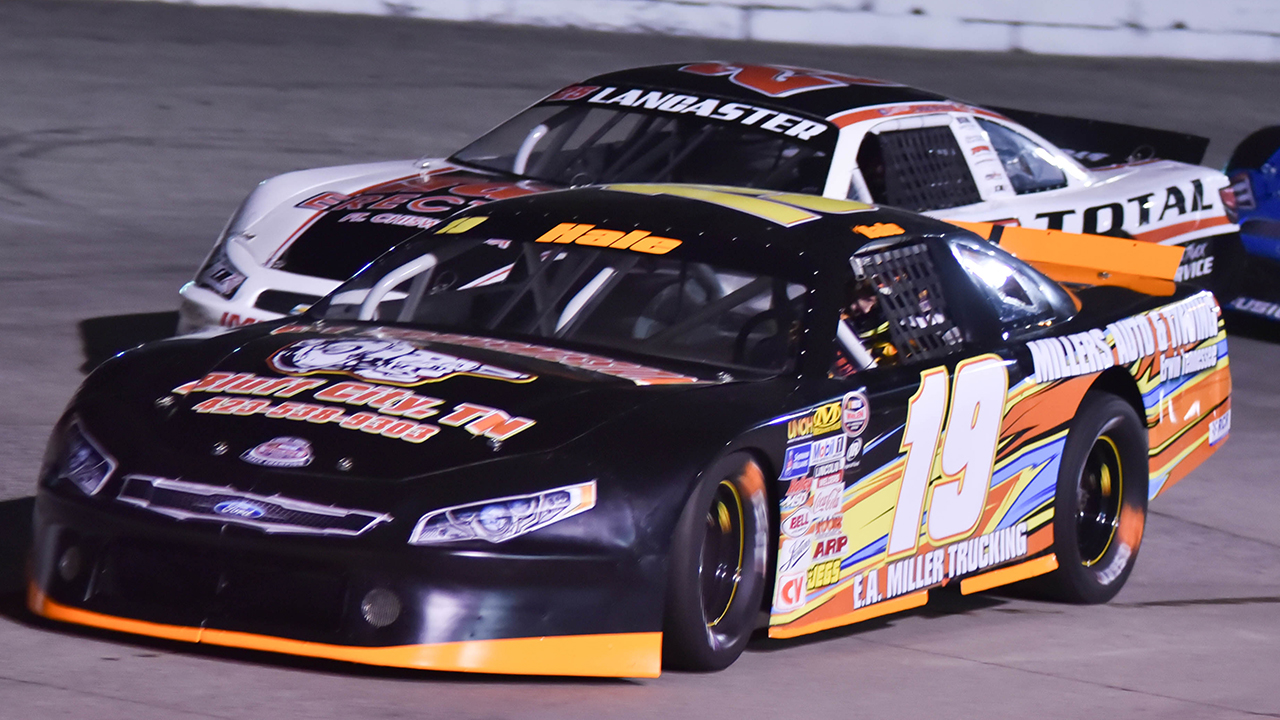 But there would be no catching the veteran Hale out front as he completed a flag-to-flag run to his first win of the season over Shell, VanDyke, Williams and Ferguson.
Completing the top 10 finishers were Lancaster, McCarty, Bayne, Lane and Dennis. … Twelve cars were running on the lead lap at the checkered flag.
Results:
1. Wayne Hale #19-Bluff City, TN
2. Zeke Shell #1-Johnson City, TN
3. Kres VanDyke #15-Abingdon, VA
4. Nik Williams #32-Greeneville, TN
5. Robbie Ferguson #7-Jonesborough, TN
6. Derrick Lancaster #25-Christiansburg, VA
7. Ronnie McCarty #5-Kingsport, TN
8. Trey Bayne #21-Knoxville, TN
9. Derek Lane #28-Kingsport, TN
10. Bryson Dennis #15-Greeneville, TN
11. Joey Trent #26-Gray, TN
12. Dillon Hodge #5-Kingsport, TN
13. Rick Pannell #33-Kingsport, TN
14. Mardy Roberts #55-Kingsport, TN
15. Allen Hawkins #14-Kingsport, TN
16. Taylor Coffman #30-Bean Station, TN
17. Joshua Gobble #25-Abingdon, VA
18. Darin Silver #12-Spruce Pine, NC
Did Not Start: Mike Looney #87-Catawba, VA