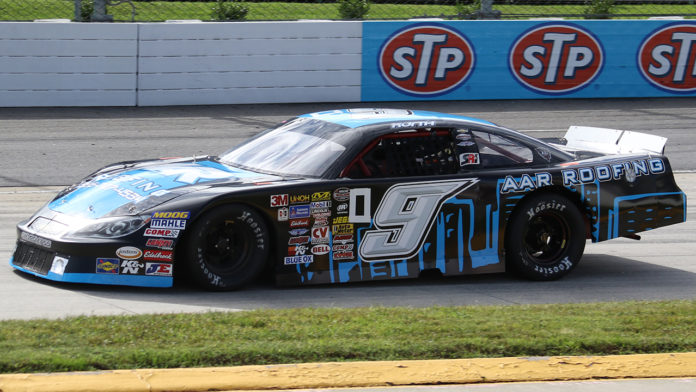 After an eventful ValleyStar Credit Union 300 that saw CE Falk III take home a grandfather clock following three green-white-checkered attempts, many of the same drivers will be back in action on Saturday evening at Ace Speedway for the 5th annual Rodney Cook Classic. Peyton Sellers and Layne Riggs will rekindle their rivalry after getting together on one of those late-race restarts, while Blake Stallings will look to defend his Rodney Cook Classic title from 2017.
The Rodney Cook Classic will also be filled with several local Ace regulars, among them being McLeansville, North Carolina native Dustin Rumley, who will be driving a car prepared by Brad Kurth. Rumley remembers the amount of success that Cook had at Ace and the impact he had on the local short track community, and wants nothing more than to pick up a victory in the race dedicated to his memory.
"Me and Rodney had some good times and some bad times," Rumley said. "We butted heads, and we were always going after each other. It's a big honor to enter and run his race, and I'd like to do well and try to win it obviously. Brad Kurth gave me a call and asked me if I wanted to run his car, and I said that I'd love to."
Rumley has been around Ace Speedway during most of his childhood as he watched his father compete in Late Model races just about every weekend against the likes of Cook, Robert Turner and Barry Beggarly. The ability of his father to get around Ace and frequently compete for wins inspired Rumley to start a racing career of his own, as he began racing go-karts at a young age before moving up to Ace's Late Model division in 2007.
Rumley would immediately find success at Ace by picking up a victory in his first season, and would go on to win his first track championship in 2010. Rumley picked up two more track championships at Ace in 2012 and 2013, where he would compete against many of the same competitors that his father raced against in his career, including Cook, Beggarly and Dean Fogleman.
Rumley would continue making regular appearances at Ace until 2015, when he began to grow dissatisfied with the way the track was being handled by its owners at the time. The track temporarily closed its doors shortly afterwards, which convinced Rumley and his family to take a break from competing in Late Models on a regular basis, giving them more time to focus on their family business Rumley Trailers.
Rumley admitted that his business has been doing extremely well in recent years, which has left him very little time to focus on his racing career. Rumley does occasionally find races to compete in that do not conflict with his work schedule, as he has been running Legends cars in the Summer Shootout at Charlotte Motor Speedway this year, and is currently planning to compete more frequently in the Late Model division at Ace.
The 2018 Rodney Cook Classic will serve as the first race that Rumley has competed in at Ace this season, but the Late Model veteran is more than confident in his ability to bring home a victory at the track despite his prolonged absence. Rumley stated that many characteristics about Ace separate it from other tracks in the region, and Rumley believes that his experience at the track will make him one of the favorites for the win.
"It's a tight little track," Rumley said. "It's not symmetrical and it has two different corners, so that makes it one of the tougher places to get around. Plus, it was close and local, so I didn't have to go far to race. A whole lot of things made getting around there easy for me."
Rumley will have to find a way around many of the best Late Model drivers on the east coast in order to add his name to the short, but prestigious list of Rodney Cook Classic winners, which is expected to include current CARS Response Energy LMSC Tour points leader Bobby McCarty and Rodney Cook Classic Prelude winner Stacy Puryear. Rumley knows what it is like to race in fields loaded with talent, and plans to utilize patience in order to be a factor at the end of the 140-lap feature.
On-track activities for the 5th Annual Rodney Cook Classic will kick off at approximately 11 a.m. on Saturday morning with rotating practice for the six different divisions that will be at the track. Single-car qualifying will set the field for the Late Model, Limited Late Model and Modified features before the first race of the day starts at 4 p.m.