I was going to write something on Teddy as he lost his life in plane crash heading to race this past Saturday. He was my hero growing up, closest thing we had to Dale Earnhardt in weekly racing, except he would fight if need be. He was the epitome of what a weekly racer should be, and I always said, if he made it to the big time in a good ride he would jack the series up to it's breaking point.
We need more TC's, racing would be thriving just because of one guy, people would not be able to get enough of him. I was going to write, but my buddy Derek Pernesiglio from Speed Sport News summed it up perfectly in a Facebook post. I would never do this from a journalistic standpoint but it's too perfect not to share, he lived it. Godspeed Ted, there will never be another like you.
Here's the post from Pernesiglio's Facebook page:
Been scrolling through social media and news sites all night reading whats been said about Ted Christopher. There's enough words that can be written about Ted that could fill a library. Growing up watching Ted Christopher race, he was one of those guys who didn't mind playing the bad guy on the racetrack. And boy, did he play it well. As a kid, I was on the dislike side of Teddy. People loved him or hated him, there was no gray area. It's true when they say he had this Dale Earnhardt, intimidator-like persona. The way he would taunt drivers, owners, even the fans while doing it with a wise ass grin or his quick wit. He was not the driver you wanted in your rear view mirror because at times he'd take a piece of your bumper with him.
As I got older and started shooting and producing the banquet videos for NASACR. Ted's championship feature became my assignment for the 2008 banquets. I was very nervous working with him for the first time because the only exposure to him was watching him as a kid being this tough, bad-guy racer who didn't care if he wrecked you. All of that childhood dislike quickly broke away the first day I started shooting video of him. He was asking why I was doing all those weird moves and strange poses. Then we would go back and show him the video saying, "Okay, now I get it." After moving in front of the camera Ted would bust chops with a nudge and a grin and say, "I have to say nice things the media guy is standing around." Which would usually follow with a candid, off-color, one-liner that only Teddy could deliver.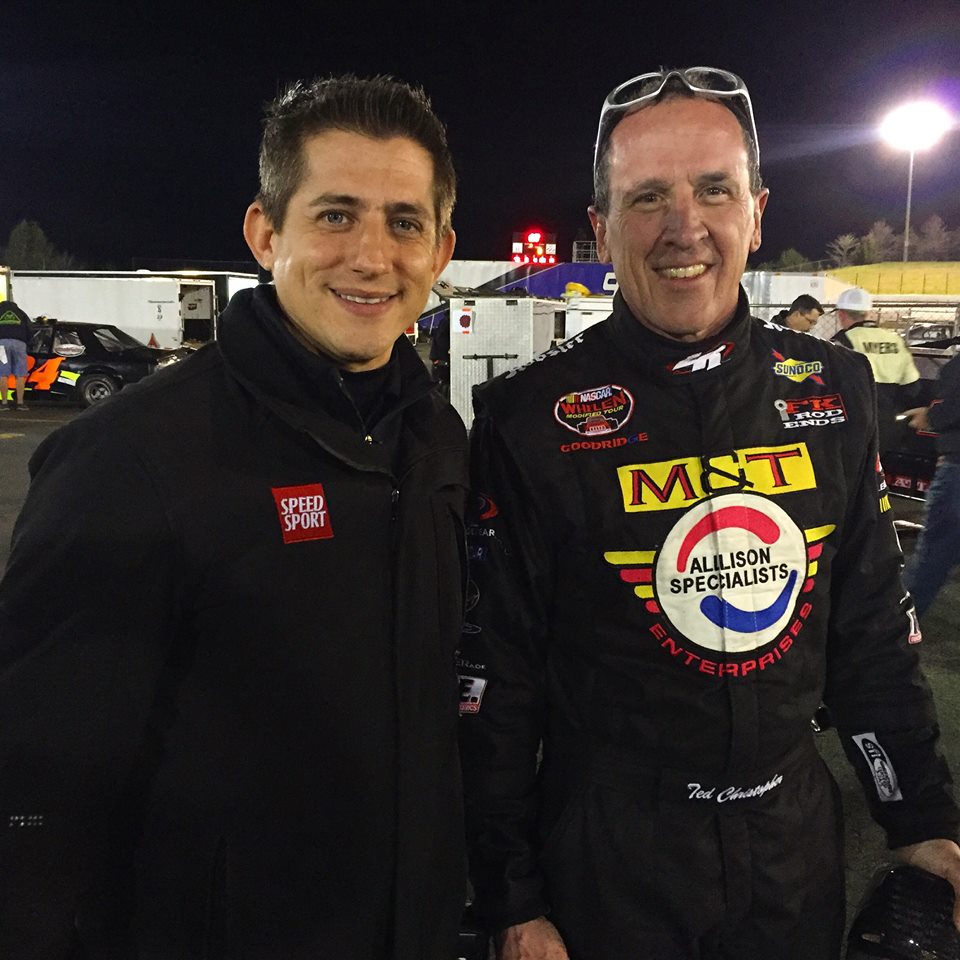 For example, earlier this year we were at a track Teddy didn't care too much for. It was more of a momentum racetrack where you had to pace yourself on the throttle. Teddy said, "This place sucks! I'm a only a quarter to a half throttle. I don't wanna f**cking track you ride around, I wanna track you race around!"
His ability behind the wheel was unsurpassed. Teddy excelled in all forms of racing, with a resume that spanned from the Monster Energy NASCAR Cup Series to indoor TQ Midget racing. A career which included six starts in the Cup series, twenty-one in the NASCAR Xfinity Series, two in the Truck Series, ten wins in the NASCAR K&N Pro Series East, forty-two wins in the NASCAR Whelen Modified Tour including the 2008 Championship, the 2001 NASCAR Whelen All American Series National Championship, two starts in the Rolex 24 Hours of Daytona, wins in TQ and NEMA Midgets as well as Supermodifieds and countless wins and local track championships.
I remember one time running my fathers midget at Thompson a few years ago. I lined up inside Teddy for the main event. Before the race Dad leaned in the cage and said follow Teddy and try to learn something. Under pace laps I rolled up next to him and gave him a wave and a thumbs up, Teddy flipped me off. As we came off four to take the green Teddy took his left side nerf bar into my right front and drive me down into the apron and took off. That day I learned I was going to have to bring a hell of a lot more to the table if I was going to compete with Ted Christopher. You loved him, you hated him or you loved to hate him. The guy grew on you, his personality grew on you and you started to love him for it. Personality this racing world will miss him dearly. Thanks for all the good times Ted.