The 8th Annual Rupert Porter Memorial Shrine Race took place on Friday night at Anderson Motor Speedway and with twin 50-lap races on tap it brought the NASCAR Whelen All-American Series National title battle to the UpState South Carolina track.
Lee Pulliam came into the event leading the NASCAR Whelen All-American Series by one point over California driver Trevor Huddleston. Pulliam needing to get full car count wins to keep his edge in the points standings headed to Dominion Raceway in Spotslyvania, Virginia on Thursday and was never in contention to win. He needed a better performance on Friday night in Anderson, SC.
Pulliam put his mount on the pole for the first race of the night but he would have a challenge right from the start of the race from outside polesitter Cody Haskins. Haskins got the jump on the start while the top five runners fell in line behind him. Pulliam kept pressure on Haskins while behind them Colby Howard and RA Brown were battling for fourth position with Brown eventually taking the spot.
On lap number eight Haskins goes around from contact with Kenneth Headen. No damage but to the back of the field he goes as Pulliam takes the lead over Headen, RA Brown, Howard and Neil Meredith the top five. Back under green Pulliam retains the top spot and builds his lead to ten car lengths before the checkered flag waves giving him his first victory at Anderson and his 17th overall.
Pulliam was chased to the line by Trey Gibson who rallied to second ahead of Headen, Brown Howard and David Roberts in the 18-car field.
Pulliam was elated to finally win at Anderson Motor Speedway after several trips to the UpState track.
"That was awesome man, I've been hunting a win here at Anderson forever," said Pulliam. "Pretty cool one of the few tracks I hadn't won at. Man it feels good we had an awesome hot rod and it feels real good."
Meredith took the early lead in the second 50-lap race with Howard in tow and Roberts up to third quickly. At a lap 11 caution Meredith leads Roberts, Gibson, Sam Mayer and Pulliam but by lap 14 Roberts had taken the lead with Gibson taking second from Meredith by lap 23 and brings Pulliam with him. Lap 26 caution as Haskins calls it a night with his car overheating.
On the ensuing restart the field stacked up and Pulliam gets spun around. However he retains his position as they didn't complete a lap. Pulliam takes second from Gibson on the next restart and sets his sights on Roberts who is hungry for a win. Pulliam however comes up a little short despite a strong challenge as Roberts enjoys the victory.
Pulliam finishes second with Gibson, Meredith and Mayer completing the top five finishers.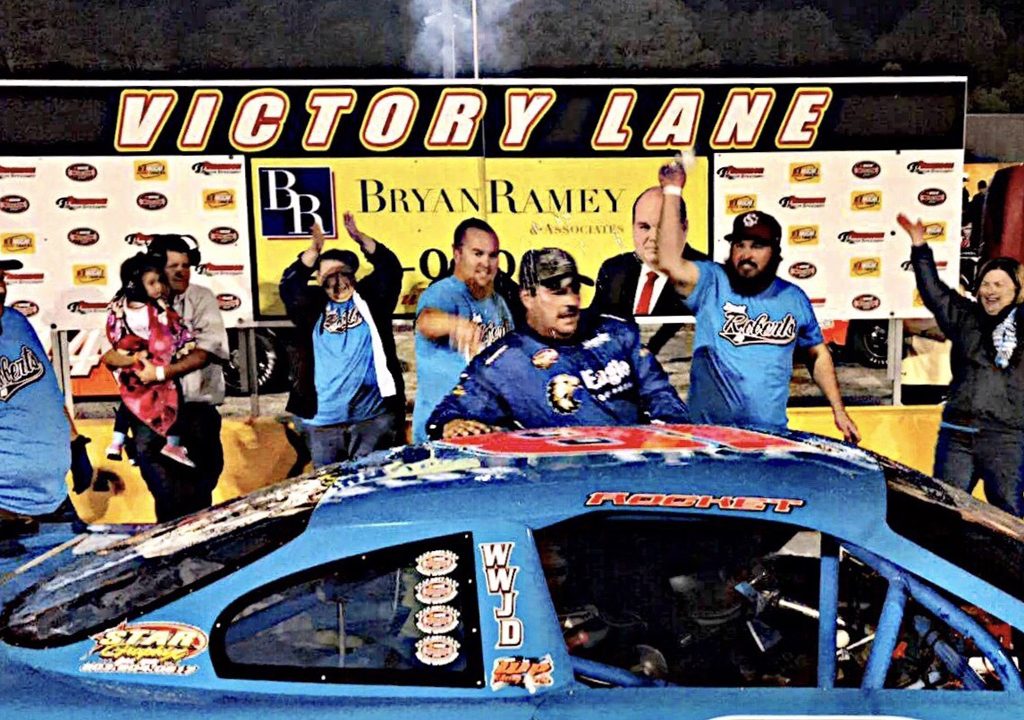 Roberts was emotional in victory lane.
"This win means a lot to me," said Roberts. "A great friend of mine passed away a couple months ago that helped us for over 20 years. We been trying to win for him every week and come up second, second, second, tonight we got it done."
He also knew the importance of beating Pulliam.
"Oh man we just had a good car in the second race, just got out front in clean air and held off Lee Pulliam for the win. That's big. He's hungry for a win, he needed them points but we got him there at the end."
Pulliam for his part in the second race was a little miffed with some late race antics by Roberts.
"Trying to come up through the field there and thought we was going to have something there on that last restart. Car was pretty good and the 18 car just didn't get going or decided not to go and that got me spun. Got a lot of nose damage. It was just a bad deal we was almost able to get back to him and I was doing everything I could to run him down. We needed that win bad for the nation but it's still a great night to come down here and get a first and second."
A good night for Pulliam's points chase but he'll head to Myrtle Beach Speedway on the other side of the state of South Carolina in search of another win at a place he's already won 13 this season but was shut out of victory lane just two weeks ago by Matt Cox.
For David Roberts it was a great way to cap off a championship winning season with a victory in the seasons final Late Model Stock Car race. Roberts won the championship over youngster Luke Sorrow who didn't have his best night on the final night of the season with finishes of 12th and sixth.
Unofficial Results:
Race #1:
1 – #5 Lee Pulliam
2 – #112 Trey Gibson
3 – #99 Kenneth Headen
4 – #60 RA Brown
5 – #18 David Roberts
6 – #5s Justin Sorrow
7 – #16 Colby Howard
8 – #36 Neil Meredith
9 – #41 Sam Mayer
10 – #5b Jeremy Burns
11 – #2 Cody Haskins
12 – #9 Luke Sorrow
13 – #17 Archie Adams
14 – #44 Ron Hall
15 – #16t Matt Taylor
16 – #28 Jackie Manley
17 – #82 Will Burns
18 – #00 Rick Kelley
Race #2:
1 – #18 David Roberts
2 – #5 Lee Pulliam
3 – #112 Trey Gibson
4 – #36 Neil Meredith
5 – #41 Sam Mayer
6 – #9 Luke Sorrow
7 – #17 Archie Adams
8 – #99 Kenneth Headen
9 – #16 Colby Howard
10 – #60 RA Brown
11 – #16t Matt Taylor
12 – #44 Ron Hall
13 – #82 Will Burns
14 – #28 Jackie Manley
15 – #00 Rick Kelley
16 – #5b Jeremy Burns
17 – #2 Cody Haskins
18 – #5s Justin Sorrow
Story by Langley Austin/Adam Lindeen