Philip Morris and Colin Garrett battled for the win in the middle portion of Sunday's 75 lap Late Model Stock Car feature at Dominion Raceway, but it was the four-time national champion who had the edge.
Morris wrecked his primary car in practice and was forced to start the race in a backup car, but the veteran wasted no time marching to the front of the field.  On lap 42, Morris began his offensive against race leader Colin Garrett, but Garrett held him off until lap 44 when Morris executed the bump and run.  Garrett returned the favor, but Morris held on and drove away to claim the victory – his second of the year at the Thornburg, Virginia track.
"I definitely like racing up here," Morris told Race22.com.  "The young guys, they're going to be so good.  It makes us better.  My hats off to [Garrett].  He moved me enough not to spin us both out and kept control.  That's racing.  We want this for the fans.  We want side-by-side.  We want contact.  I was biding my time behind Colin.  He was doing a great job, he was really wheeling the thing.  I felt bad for him.  I decided to lay off him a few laps and let him get himself in a little bit more trouble, then when I got to him the next time, one straightaway was all it took."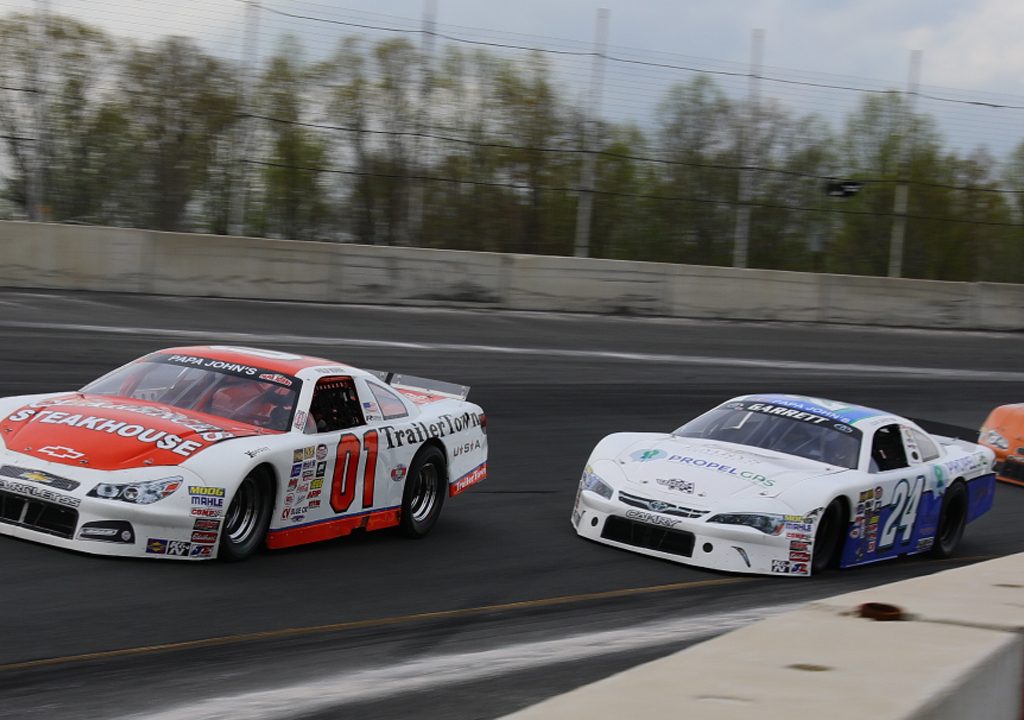 After the race, Morris gave Garrett words of encouragement for his effort during the race.  The veteran racer from Ruckersville, Virginia has been involved in many intense battles but, once again, after the race, Morris was all smiles.
"The last five or six times I got moved, I found myself laughing," Morris remarked.  "That's what I was doing there, just laughing out front up high and giving the guys plenty of room down on the bottom.  I just can't believe we won with that dog of a motor.  It was terrible off the bottom.  I'm just shocked we won this race with a backup, this is a three-year-old backup."
Morris started in the rear after replacing a spindle on his backup car.  He said after the race the practice crash was one of the hardest hits he's ever taken.
Colin Garrett ended up finishing in the third position after his battle with Morris.  A few laps after Morris got past him, Garrett got sideways in turn two but managed to hang on to the car, surrendering the second position in the process of a remarkable save.  Garrett took his third-place finish in stride.
"We were getting a little free in there and that kind of explained why we were getting so loose," Garrett said after the race.  "We had a good run overall.  We led some laps.  It was a really good battle between me and Philip.  It was good to fight against the King of Late Model Stocks.  It was really fun."
Jeff Oakley ended up finishing in second.
Raymond Terczak scored the victory in the Dominion Racer feature over John Alford and Aaron Donnelly.  Zach Lightfoot, in his Limited Late Model debut, finished fourth while Cole Bruce rounded out the top-five.
Dominion Raceway returns to action on Saturday, April 28th in a race headlined by Super Cup Stock Car Series.  Late Model Stock Cars return on May 12th.
Late Model Stock Car Results
Philip Morris
Jeff Oakley
Colin Garrett
Timmy Phipps
Alex Brock
Mike Ganoe
Nick Leitz
Michael Hardin
Richard Storm
Ray Terczak
Jonathan Findley
Mike Carte
Billy Ingle
Robert Bruce – DNS
Dominion Racer Results
Ray Terczak
John Alford
Aaron Donnelly
Zach Lightfoot
Cole Bruce
Bradley Kilby
Barry Moore
Edward Johnson
Reid Murphy
Stuart Weaver