During the final month of the regular season, Maddy Ryan Mulligan showed significant improvement as a driver as she ran competitively at East Carolina Motor Speedway.  That improvement has given her confidence heading into Saturday night's "Big One" at Dominion Raceway in Thornburg, Virginia.
The 18-year-old from Chesapeake, Virginia made the leap to Late Model Stock Cars last season and large struggled throughout her rookie season.  Those struggles continued into her sophomore season, but in recent months, Mulligan has turned the corner.  In August, she found herself in contention for a win at East Carolina Motor Speedway and ended the season there with fourth place finishes in the Mischa Sell Memorial Race and the Ronnie Barnette Memorial.
Mulligan says much of her recent success is owed to simulator training as well as increased focus on the car and in testing.
"I have to really owe a lot to iRacing," Mulligan said.  "I stayed consistently on iRacing quite a bit.  I kind of feel like we got the car dialed in where we need it to be.  We were taking a whole day at a time to really go out and critique on the small stuff.  We were making sure and focusing on short runs and longer runs.  We actually, not that we didn't do our homework before, but we've really focused on smaller stuff, qualifying and getting consistency in what we're doing in testing as well."
The three top-five finishes at East Carolina, which came in the final four races of the season, have boosted Mulligan's confidence and her morale.
"It definitely did a lot for my confidence," Mulligan remarked.  "I became a lot more comfortable at East Carolina.  We're planning on running there quite a bit next yeae.  It boosted my confidence, my spirits and my team's spirits quite a bit.  Overall, it made me more comfortable with my actual car."
While Mulligan's improvement has been noticeable at East Carolina, her results have come with something of a caveat.  Despite being one of the more difficult tracks to get around, East Carolina's car count have routinely been in the single digits.  However, Mulligan does not feel the lower car counts have taken away from the difficulty of the 3/8-mile track or the competitors who race there, such as veterans Louis White and Thomas Burbage.
"They haven't had the car counts that they were hoping for I know and it would be an even bigger confidence booster if we had those really good runs with higher car counts," Mullian commented.  "That is a very difficult track to run.  It's not like anything else.  It's a very unique setup.  There are very good drivers at East Carolina so it's not like the competition is low."
With renewed optimism, Mulligan is now looking ahead to The Big One at Dominion Raceway on Saturday night as well as their first-time winner's race on October 21st.
"A top-five or top-10 finish would be ideal," Mulligan expressed.  "We're running there the next couple weeks to get a grasp and handle on the track.  Our goal this weekend is to dial the car in and get me dialed in to the track because I've only seen the racetrack twice and I've only seen Late Models run on it once.   Just to be able to get a handle on the track and the car is what is expected this weekend, but a top-five or top-10 would be great."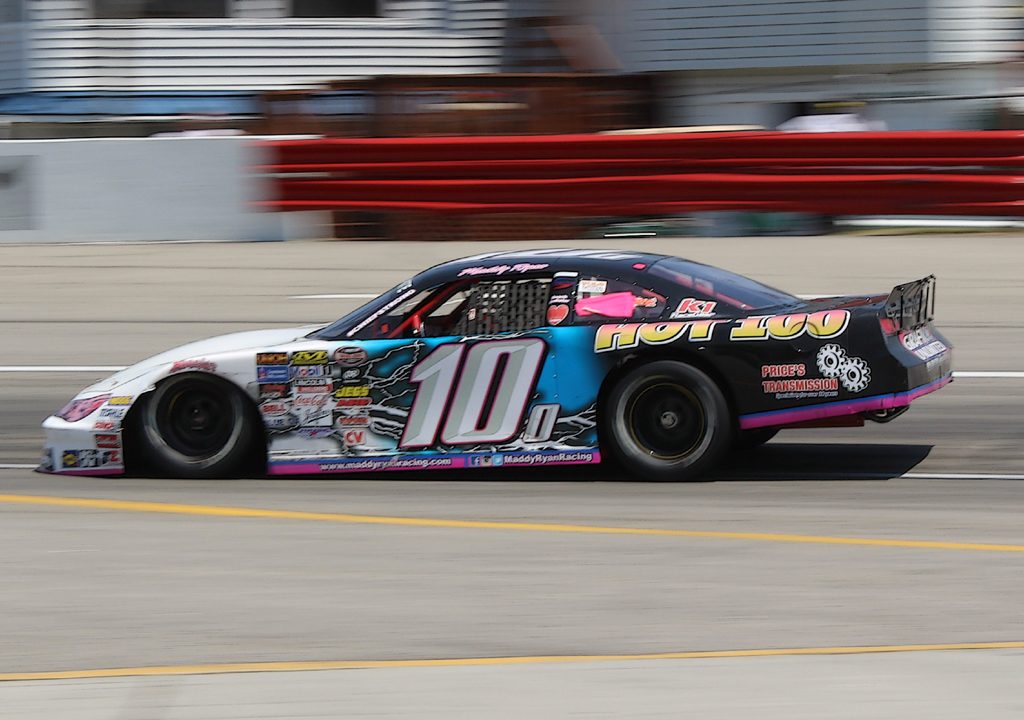 Because of some of her struggles last season and early this season, Mulligan has become something of an easy target on social media for criticism and hatred.  Throughout her career, she has been criticized for her speed and performance, but those comments have often extended to over-the-top remarks about her looks, sexuality and personality.
"It does get under your skin, it did at first," Mulligan explained.  "I've kind of had to take a step back and really focus on me and what my team is doing with our season but it does get under your skin at times.  You have to remember that half of those people that are saying those comments and making those comments and giving their opinions, they're behind a keyboard.  They've ever been in a racecar.  They can think they're racing critics but, at the same token, Cup drivers are critiqued on every single thing they do.
"I have to brush it off at times.  There's nothing I can do to change their minds.  Saying something to them won't change their minds so I have to focus on what I'm doing, better myself on and off the track and use my actions as retaliation."
Despite the criticism, Mulligan remains as committed to her racing as ever, hoping to make a career in motorsports.
"That's the type of things that people don't see sometimes," Mulligan elaborated.  "They just see me run the race.  There are a lot of aspects behind racing.  I have been doing this for six years.  I'm committed to it.  I want to make a career out of it, that's the goal.  I'm physically fit and am always training.  In season and offseason, I'm always at the gym and I enjoy what I do with my health."
Mulligan's commitment can also be seen in the marketing aspects.  Her appeal to fans and sponsors extends beyond the racetrack.  Mulligan is often seen at events outside the track promoting Langley Speedway or promoting her sponsors at various events, charity or otherwise, throughout Hampton Roads, Virginia.
"NASCAR has become in a lot of people's eyes a huge marketing game," Mulligan commented.  "You have to have the talent to back it up but sponsorship is such a big part of it.  I am doing what I can now to get experience and show larger companies that I hope to meet with that this is what I've done for smaller businesses and this is what I can do for you.  We have a charity event we're going to hit this evening.  Those events, a lot of drivers don't enjoy doing them but I enjoy doing that stuff."
As Mulligan continues to progress as a driver, she hopes to create more opportunities for herself and show that, at the track, she is more than just a pretty face.
Mulligan will compete in Saturday night's "The Big One" at Dominion Raceway, which will get underway at 5pm on Saturday evening.  Dominion Raceway is located just off I-95, at Exit 118 in Thornburg, Virginia which is located between Richmond and Washington, DC.