It's Glorious…….
Martinsville Speedway has always been a throwback track, one with rich tradition and lot's of history. People in this region take life slow, change isn't always a good thing. As other tracks have got the latest and greatest, Martinsville has kept it simple, letting their clean facilities and great racing take center stage. On Thursday night, March 2nd, 2017, everything changed. Martinsville became the first major sporting venue in the world to have LED lighting…….and it was glorious.
The event was really only a media only event. But as I approached, the parking lot was filling up outside turn four with local residents wanting to see a glimpse of the new improvement of the crown jewel of the region. And in typical Martinsville fashion, they opened the pits to everyone so all could witness the event from inside. The large crowd drew the awe of John Mason, the project manager of ISC design and development. As we were just shooting the breeze beforehand and the crowd got bigger, Mason said "This is amazing, at other tracks you don't see this. This was not even advertised but the community here is so strong, it's refreshing to see".
After a short intro by track president Clay Campbell, the time came. And it came quick. The track was lit and all 442 fixtures came to life at once. Everyone stood in awe. Even though they used 28 tons of American steel and 81 cubic yards of concrete to erect the poles, they are tiny in comparison to any other outside sporting venue, and twice as bright.
Lighting racetracks have always been a problem. Dark spots, unequal lighting, start up time, all sorts of things. Martinsville has not a single one of these. It's like nothing we have ever seen, it's close to daytime, but only brighter with a "cleaner" light, no dark sports to be found and the lights fully come on to 100% within 15 seconds. As we gaze around, on the backstretch we hear that sweet sound, a pair of Late Model Stock cars fire up.
2005 National Champion Peyton Sellers and our most recent National champ Matt Bowling burn off pit road and onto the track. The cars glimmer and shine as they pass under the lights. After two laps they are at full speed, and just by watching these two cars go around a few laps, I can tell you that the Valleystar Credit Union 300 on September the 23rd will be amazing to see.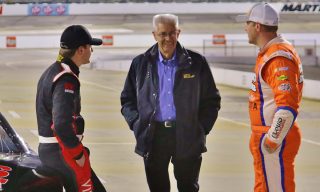 When Sellers came in I walked over to his car before he got out and he took his helmet off with a smile from ear to ear. "That was unbelievable" said Sellers. "At every track I've ever been to, even Cup tracks you have dark areas, your eyes get used to the light changes. Here it is constant light, there are no dark areas. It was odd driving it, even though I've been here so many times, for sure a different feeling".
The biggest smile of the night came from the patriarch of the Wood Brothers, Leonard Wood. "I've been a lot of places but I've never seen quite the job they have done here" said Wood. Smiling still, he crawled in his brothers old 30 something coupe and took it out for a few laps. He even hammered on it pretty good a few times, and I swear to you, I could see him still smiling as he drove past.
The night ended with anyone that wanted to could take their personal car around the track for 5 laps behind the pace car. It wasn't advertised, it wasn't really even said, but Martinsville always takes care of their fans and townsfolks and always goes above and beyond. Most tracks would never do this on the fly, but Martinsville's "heck that sounds like fun, let's do it" attitude has won fans over for years. Makes me think about a comment I made to the guy from ISC when he was talking about the fan turnout. I told him "The reason Martinsville sticks out is this, say at another big track I want to go one day out of the blue and see the president of the speedway. You have to make an appointment or they just don't have time for it. I could come up here next Tuesday and ask to see Clay and I'd see him within two minutes, heck we might go eat lunch". That downhome courtesy and commitment to be welcoming to everyone is why Martinsville is still thriving today while others are faltering.
This September it all comes alive. The most hospitable track and the most competitive race in the country. Now on a Saturday night. This will be the biggest night in the history of Late Model racing. And ultimately, a night none of us will forget for the rest of our lives. You better not miss it.