After four straight years of playing the bridesmaid in the race for the Greenville Pickens Speedway championship, Trey Gibson put his name on the wall for the first time.
At Greenville Pickens Speedway nothing is more sacred than having your name painted on the wall that wraps around the outside of the track. That honor is reserved for only drivers who have a championship at the historic track. Many legendary names adorn the wall on the half-mile speed plant. Trey Gibson's is now among them.
Gibson's road to get his name on the wall was a long and tortured one. Finishing runner-up to the champion the last four seasons would have been enough to beat down even the best and most patient of racers. Gibson however persevered through it all and having his name on the wall continues a family legacy that includes his include Randy Porter, whose name was already on the wall.
"It means a lot to my Papa," Gibson told RACE22.com. "My uncle Randy's name is already on the wall and I've been trying to add mine for the last five years. Finishing runner-up for four years straight and it feels great to finally have it up there."
The honor of having the premier division champions names on the wall is one that isn't lost on Gibson.
"Having the champions names on the wall at Greenville is special. It's awesome that they have been doing that for all these years and I've always wanted to be on there. It's cool to have my name up there with all those great drivers."
Gibson could have likely added his name sooner but nearly every year he ran for the championship it seemed like there was someone or something standing in his way. He finished second behind eventual NASCAR Whelen All-American Series National Champion Anthony Anders in 2014 before Anders took over the lease of the track in 2015.
Beginning in 2015, Gibson felt as if he didn't get a fair shake with the new management. He found himself disqualified several times over the next couple of seasons before finally breaking that streak and standing tall above the rest of the field.
"Some of the disqualifications were minor and petty," said Gibson. "Our car was looked at harder and more than anyone else's. I think it stemmed from my uncle (Randy Porter) and Anthony (Anders) racing each other so hard over the years. I wanted to give up sometimes but I wanted to show them we weren't going away."
Gibson admits that all those problems are in the past and that the communication between the track and his team is so much better today.
"Our car is the most legal car out there now and it should be. We now have better communication with the track and even a friendship with Anthony (Anders the track manager) now. Time takes care of everything I guess."
Gibson attributes finally breaking through for the championship to a different mindset by him and his team.
"Going to the track is like a family reunion for my family," continued Gibson. "This year we didn't worry about points, we just went to get the best finish we could and hopefully have no failures. We won five races and we didn't even really look at the points or think about them until the last three."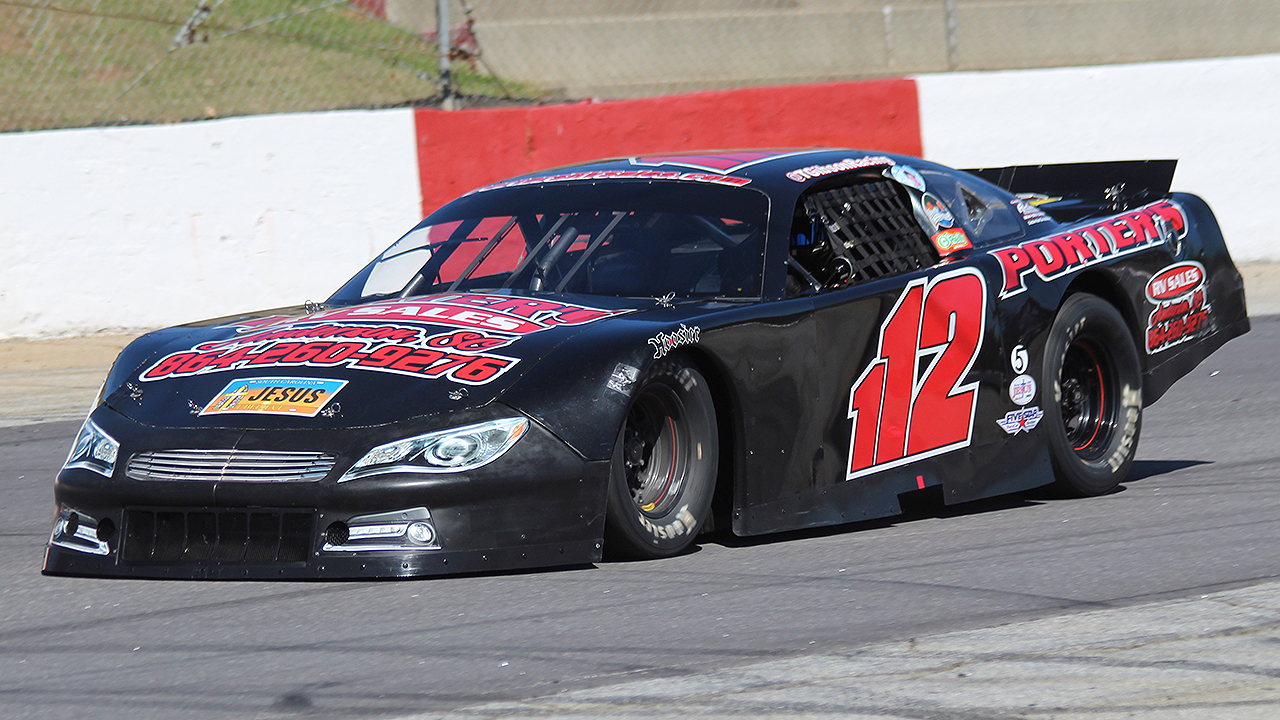 Gibson and his brother Corey primarily take care of the car in the shop with more of the family and friends who he says have become family joining them at the track each weekend. Gibson also narrowly missed the Anderson Motor Speedway championship after a failure in the final race, where he lost the championship by two points to Luke Sorrow.
"This was the best year overall for us as a team. Just the way we did things and thought about things. We always finished and run competitively everywhere. We worked really well together and would have won the championship at Anderson if not for a failure the last race."
Ultimately Gibson's championship came because he never gave up despite his challenges at Greenville-Pickens Speedway. It was a long road to get his name on the wall but the support of his family and sponsors Porter's RV Sales, O'Reilly Auto Parts and Gibson's Auto Sales helped get him there.
Gibson isn't planning to run for points at either South Carolina track that he competed at full-time in 2018. Gibson says he's hoping to bounce around to different tracks and get more experience running at other tracks. He also hopes to get to finally travel to races like the Hampton Heat at Langley Speedway, the ValleyStar Credit Union 300 at Martinsville Speedway and select CARS Tour events.