Lights, camera, action – that's what they say in Hollywood.
Following a lengthy delay when the lights went out Friday at Kingsport Speedway, once "The Concrete Jungle" was fully illuminated again and action resumed in the Model City, the star of the show on Chevy Night at the Races was Robbie Ferguson of Jonesborough. Ferguson held off a hard-charging Kres VanDyke to capture his first NASCAR Whelen All-American Series Late Model Stock Car win of the season.
Not just on the track, but life, in general, these days is good for Ferguson. What better birthday present could a husband give his wife than a celebration in victory lane with the checkered flag and a trophy? With Friday being Ferguson's wife, Kim's, birthday, the win was extra special for the 57-year-old veteran racer.
But it gets even better for Ferguson, as he learned this week he would be inducted later this fall in October into the Daniel Boone High School athletic hall of fame for his exploits on the mat, where he was an all-state wrestler back in the late '70s.
"Yeah, without a doubt this win tonight is really one of the most memorable ever for me in my racing career," Ferguson said with a smile on his face in victory lane. "Family and racing both are very important to me in my life. To be able and win tonight for my wife's birthday is just an awesome deal, and having my daughters Tiffany and Niki, along with my grandson Roman here, this is one of those wins you won't ever forget."
VanDyke, the defending track and also state NASCAR Whelen All-American Series champion, was fastest in qualifying with a time of 15.029 seconds to narrowly edge Zeke Shell who timed-in at 15.090 for pole honors. The top three from qualifying were inverted for start of the 60-lap feature, with Hayden Woods and Shell on the front row, while VanDyke and Ferguson lined up in the second row.
Woods jumped out to the lead on the start over Shell, Ferguson, VanDyke and Trey Lane. Woods looked strong showing the way out front, though Shell was sticking his nose underneath Woods racing off the corners.
Racing down the front straightaway into the first turn on lap 8, Woods drifted up the track to open the door for Shell to pull to the inside as they raced off turn two down the backstretch. With his car pinched down low to the inside, Shell spun between turns three and four to bring the caution out.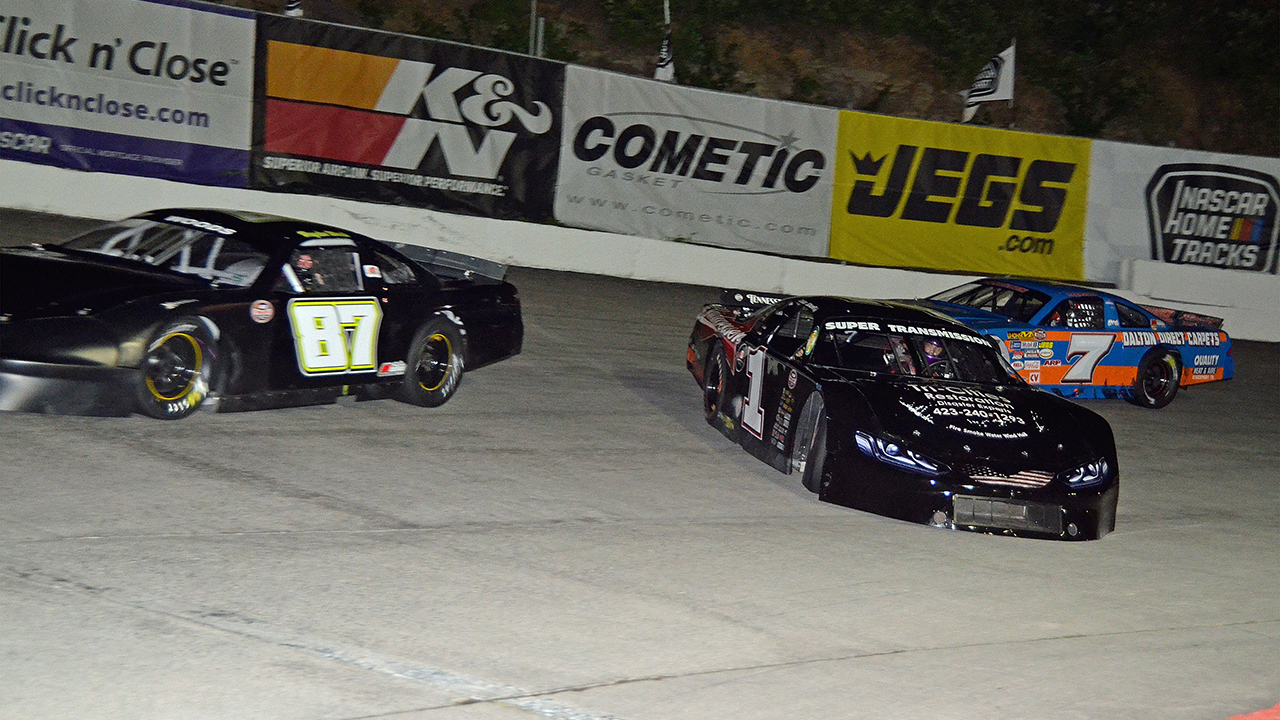 Off the ensuing double-file restart, Woods and Ferguson battled side-by-side for three laps before Ferguson took the lead. VanDyke passed Woods for second place on lap 15 racing up off (turn) two.
Shell was trying to work his way back toward the front and on lap 18 racing off turn two, contact with Trey Bayne sent both Bayne and Shell spinning on the backstretch. With nowhere to go, Wayne Hale got collected making it a three-car wreck which initially brought out the yellow flag and then the red flag when the lights between turns three and four suddenly went out.
Once the situation with the lights was taken care of, fans were treated to some of the best racing action seen in quite some time at the track. Ferguson and VanDyke battled five laps door-to-door jockeying for real estate before Ferguson moved ahead into the lead on lap 23.
Ferguson and VanDyke began to gradually put some distance between themselves and Woods, who was running in third. Ferguson had a rearview mirror occupied by VanDyke, knowing if he made the slightest mistake he would get passed. But as the old saying goes, this wasn't the first rodeo between Ferguson and VanDyke.
The action over the final 20 laps was worth the price of admission in itself, as VanDyke tried his hardest to overtake Ferguson. Racing into the corners VanDyke was right on Ferguson's back bumper, and racing down the straightaway he was bump-drafting (VanDyke's front hoodpin was left embedded in back bumper on Ferguson's car) the leader. But just like in a championship fight, Ferguson took the blows and kept standing.
With five-laps-remaining, racing off the fourth turn VanDyke got into Ferguson's left-rear quarter panel and tire smoke appeared. But both drivers have tremendous respect for one another and no harm, no foul and hard racing resumed.
Taking the white flag and having one final lap to get around Ferguson, VanDyke looked underneath him racing off turn two. But Ferguson powered off the corner down the backstretch knowing he had to cleanly get through turns three and four.
VanDyke gave Ferguson a shove from behind, but there would be no getting around him as Ferguson held on to record the win over VanDyke. Finishing third through fifth, respectively, were Woods, Trey Lane and 14-year-old Dillon Hodge with his first career top-five run.
Completing the top 10 finishers were Derek Lane, Hale, Bryson Dennis, Dale Cline and Bayne.
"This is the most fun I've had driving a race car in quite a while," Ferguson said. "Kres (VanDyke) and I have mutual respect for one another. We're not going to just run over and wreck and take each other out. Sure, we'll beat and bang and rub a little, but, hey, that's just good short-track racing. I've won some races over the last couple of years, but to win tonight with how Kres and I battled each other for the last 20-30 laps, that's what you really enjoy as a race car driver."
"I've been driving race cars for 40 years, and I've raced against many very good drivers. I barely beat Kres out for the 2002 track championship here at Kingsport Speedway, and really from how hard we raced each other that year for the championship, that's where our respect for one another comes from. Kres is a lot younger than I am, and he's won many races and also championships over the past few years. I don't know how much longer I'm going to race, because I really enjoy spending time doing things with my family. It really means a lot to me in being able to beat Kres tonight, because I know I beat one of the best. I also want to thank my car owner, Ken Daffron. We've been good friends for a long time, and he's sponsored me back in the day on my own car, and nowadays I drive for him. This win tonight is special for both Ken and I."
LATE MODEL STOCK CAR (60 laps)
1. Robbie Ferguson #7-Jonesborough, TN
2. Kres VanDyke #15-Abingdon, VA
3. Hayden Woods #87-Piney Flats, TN
4. Trey Lane #7-Kingsport, TN
5. Dillon Hodge #5-Kingsport, TN
6. Derek Lane #28-Kingsport, TN
7. Wayne Hale #19-Bluff City, TN
8. Bryson Dennis #15-Greeneville, TN
9. Dale Cline #99-Wytheville, VA
10. Trey Bayne #21-Knoxville, TN
11. Rick Pannell #33-Kingsport, TN
12. Zeke Shell #1-Johnson City, TN