With less than 50 laps remaining in the 2017 ValleyStar Credit Union 300, Manassas, Virginia native Mason Diaz found himself in the top 10 of one of the most prestigious Late Model events in the country. Although he struggled to keep pace with the leaders, Diaz had held his ground against Late Model veterans like Lee Pulliam and Tommy Lemons Jr., and found himself in a position to win at Martinsville in his first career start.
Shortly before the final break at lap 175, Diaz's evening took a turn for the worse, as he made contact with Peyton Sellers, which caused severe damage to the front of his car that included a busted radiator. A miscommunication between him and his spotter caused Diaz to make contact with fellow competitor Derrick Lancaster under the caution. NASCAR officials saw the error as reckless driving on Diaz' part, and elected to park him for the evening, but Diaz knew his night was already over.
However, Diaz was not bothered by NASCAR's decision, as the broken radiator was going to end any chance he had of winning the first ValleyStar Credit Union 300 under the lights. Diaz plans to carry the momentum from Martinsville into Dominion Raceway, where a paycheck of $5,000 will be awarded to the winner of the 150-lap Late Model event.
"Dominion and Martinsville are two completely different tracks, but Martinsville definitely gave our team a confidence booster," Diaz said. "I was the only rookie who was in the Top 10 during the event, and I raced with the best of the best in Late Model Stock racing, so it's definitely a confidence booster for someone to come out of nowhere as a rookie and just be a contender the whole night."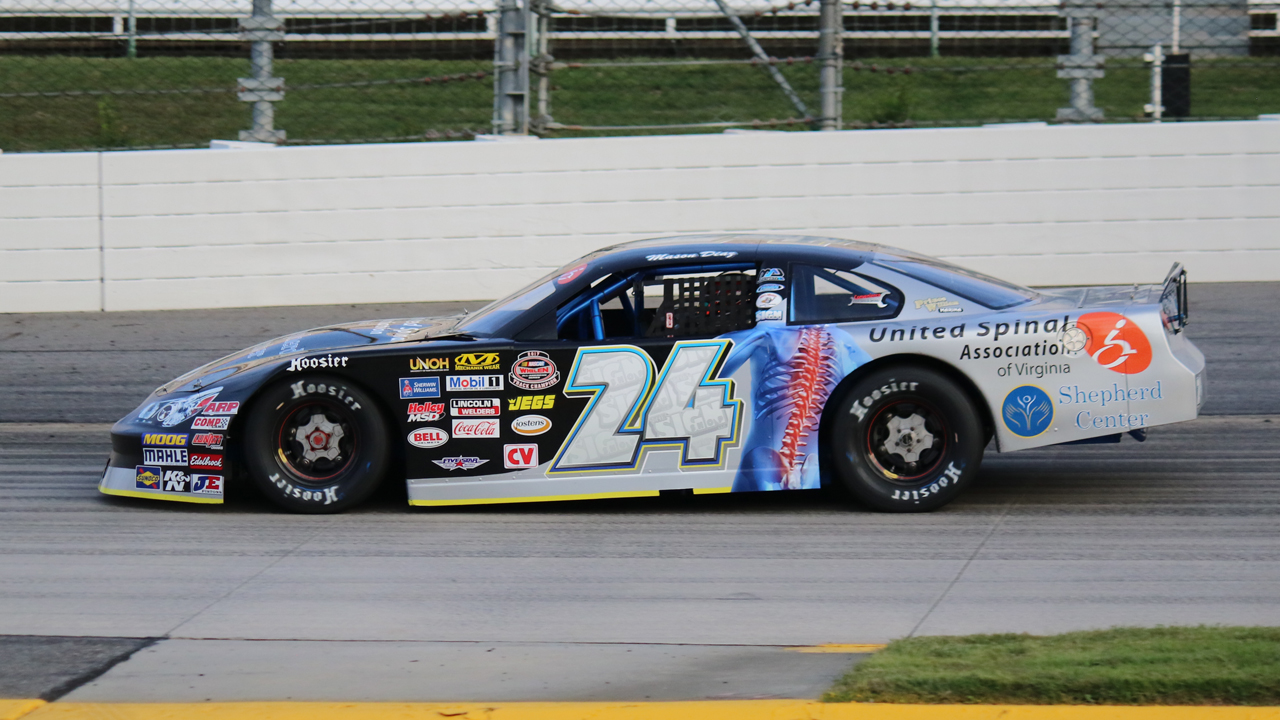 Dominion Raceway is one of the newest tracks along the eastern United States, as it was completed in 2016 as a replacement to Old Dominion Raceway. Since its inception, Dominion Raceway has hosted weekly racing almost every weekend, and has been a host to several sanctioned events, including a K&N East race that was won by Spencer Davis. Both divisions of the CARS Tour made their first appearance at Dominion in 2017, with the twin Late Model races being won by Layne Riggs and Jared Fryar respectively.
The new Dominion Raceway also continued the tradition of holding Old Dominion's "Big One" Late Model event in 2016. Eighteen Late Model competitors battled it out for the $5,000 grand prize, but Late Model veteran Jeff Oakley was able to hold off Nick Smith in order to win the first "Big One" at the new facility. Diaz hopes to add his name to the prestigious list of "Big One" winners, which includes his car owner and former Old Dominion track champion Mike Darne.
"Dominion is the closest track to my house," Diaz said. "I have a lot of family and a lot of friends coming, and it would mean a lot to win in front of them. It would also mean a lot just to end the season off with a win, and to win the Big One at Dominion Raceway would be even better since it's their biggest event of the year."
Despite being a short distance from Dominion Raceway, Diaz has been finding his stride at Southern National Motorsports Park in Kenly, North Carolina. Although Diaz struggled at the facility in 2016, he turned his program around in 2017 by knocking off five victories at the track, which earned him the track championship in Southern National's Late Model division. Diaz hopes that his success from Southern National will transfer over into Dominion on Saturday night, but he acknowledged that track position will be crucial in accomplishing that goal.
"It's really hard to pass at Dominion," Diaz said. "Everyone is so equal. There is a high line and a low line there to run. When I was up there last time, I passed for the lead on the high side, so whenever I've been up there, I've been in contention to win. You need to have a good qualifying run, and you need to stay up at the front, and if we can do that and stay out of all the wrecks, I think we'll be in contention to win again."
Diaz added that a strong qualifying run is not guaranteed, and that he would take a more conservative approach to the race if he qualified in the middle or the rear of the field. Regardless of where he finishes in the "Big One" Diaz is grateful for all of the hard work that his father Michael Diaz and car owner Mike Darne have put into his program for 2017. Diaz plans to run a few more races to close out the season after Dominion, including the Thanksgiving Classic at Southern National, in order to build momentum going into the 2018 season.