Most of the time, drivers who join Lee Pulliam Performance come in looking to learn the ropes and carry that education with them to the next level of racing. But, as 41-year-old Daryn Cockram joins the team for a run at a Limited Late Model championship at Motor Mile Speedway, he's only looking to win races and a championship.
Cockram spent most of his early years in racing behind the wheel of Mini Stock at Franklin County Speedway. It was there that he honed his skills behind the wheel and learned to battle and got the taste of victory. Since moving to Limited Late Models he hasn't had the success he had in Mini Stocks winning only once at Motor Mile Speedway and capturing a handful of wins at Franklin County Speedway.
Cockram runs DCT Towing and Recovery and doesn't have the time that other drivers do to devote to preparing his car for each race weekend. That's why he decided to take his car to Lee Pulliam Performance to let Lee Pulliam and Chris Crosby prepare the car and allow him to just work with them on race weekend to fine tune the setup.
"Me and Lee talked three years ago," Cockram told RACE22.com. "Mostly just over text messages and back and forth. Chris Crosby works with Lee and I talked to him three or four times. I almost made the switch two years ago but I chose to stay with Sellers (Racing) and we had success but never closed the deal."
Motor Mile Speedway closing for last season left Cockram in a different position as well.
"When they closed the track and I started traveling, I realized it was going to take a little more. It was a better fit with Lee. I had everything lined up and I really liked how Lee explained things. You know what you got with him and what to expect. He's a one on one person. He's hands-on and touches your car every week. I got tired of chasing them and if you can't beat them, you might as well join them."
Pulliam says Cockram contacted him in the off-season about chasing a Motor Mile championship.
"I've raced against Daryn up there for years with my drivers," Pulliam told RACE22.com. "I'm pretty excited about it. I'm looking forward to seeing what we can do."
Cockram will be Pulliam's only car racing at Motor Mile full time but he says that from time to time they'll take a Late Model Stock Car up there. Pulliam says working with Cockram will be different than his other drivers where Cockram has plenty of experience but that also presents its own challenges.
"He's got a lot of seat time and knows what things feel like already. It is some advantages to it but sometimes it could be disadvantages too. Like they say it's hard to teach an old dog new tricks. That's the same for even someone like me not just talking about him, you get used to doing things a certain way and new drivers have never done it before. They have no bad habits at all, hopefully, we can bond together and work on that stuff."
Cockram is looking forward to being behind the wheel of one of Pulliam's cars. He's spent a lot of time at the front of the field but has been unable to get the win.
"One night I led almost the entire race until about three or four to go, my handling went away and Julia Landauer (driving an LPP car) was like she just kicked in a turbo and drove right around me. It seems like I'm always behind his cars. If I can run behind them without him, I can't wait to see what I can do with him."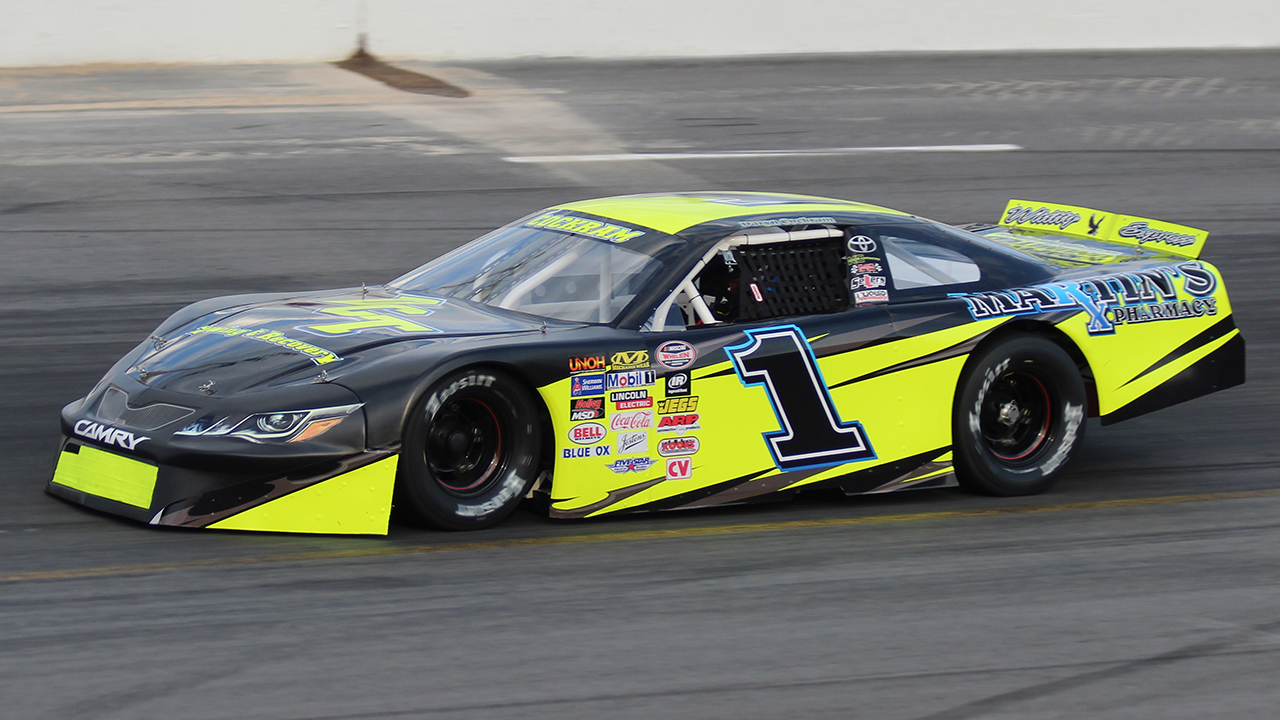 Cockram says that one of the things he respects the most about Pulliam is that he had to earn his success. Cockram has been in the same position and he says it feels rewarding to know if he doesn't win this year it'll be because he's been outdriven.
"I've always told people I want to get out drove. I don't want someone else's car to be better prepared. Back in the day in the Mini Stocks, when we showed up at the tracks people looked over like Lee Pulliam and Philip Morris just showed up to the track. If I didn't win I was beating and banging all over the bumper of the guy who did. I won 60-70 some Mini Stock races in a couple of years and then I made the move up and I won some races and had some success but it's been kind of a disappointment in my eyes."
Pulliam fills the gap that Cockram feels that he has in his program due to working so hard to keep his own business going strong.
"Lee really fit the need that I wanted. I took some time off from time to time and got my business up and booming and successful. I like being able to focus on my business and show up to drive my race car and give a little feedback to get the car right. It's really going to take a big stress off of me."
Cockram knows his biggest competitors who work a job for someone else and get off at a certain time and can dedicate time to work on the car have an advantage over him trying to do it himself.
"You take Karl (Budzevski), yeah he's not a big funded team, not a big team but he works during the day and can go home without a worry in his mind to work on his car. I can leave work and go to the shop and say I'm going to work on the car and my phone rings and I've got to go. I don't have that privilege to be able to dedicate the time it takes to be and stay competitive. When you're running against people that good at what they do, you've got to have your mind right."
Cockram admits he's adding a lot of pressure on himself by joining Lee Pulliam Performance.
"I really have thought about it. What happens if I show up and I can't win. What happens if I show up and don't do any better than I've done. It can happen. I never had new stuff until the last couple of years and I've had to try and be competitive with junk and in my mind, I don't see us not being competitive. I don't see us not being a contender for the championship. I'm confident we're going to be competitive every week."
It's right where Cockram wants to be.
"The cars are going to be right and prepared every race and I've got to go out and perform. It's what I've always said to myself that I wanted and now I've got it. His cars are winning and I'm going to throw myself in the bullring and we're going to see what happens."
Pulliam has high expectations for Cockram as well.
"We want to win every time we go to the race track but Motor Mile is tough. They're going to have tough competition and if we can go there and win a couple of races and win the championship that'll be big for him and big for me. We just need to go in there every week and be competitive and in position to win."
Cockram is looking forward to being home and just seven minutes from the track but knows that the competition at Motor Mile this season in Limiteds isn't going to be easy to beat. He stated that he thought there were 22 Limiteds signed up for this season already.
"With Karl (Budzevski) and if Kyle Barnes runs with us, you take (Josh) Gobble, Caldwell and all the others that are planning on running and it's going to be a tough field. A lot of guys who were running Late Model are dropping back. There's some new guys coming in who could be good too. It's going to be a great season for the Limited class."
Cockram is supported by Martin's Pharmacy, the Pulaski Yankees baseball team, DCT Towing & Recovery, Kessler Contracting, Clark's Racing Engines, Hedgecock Racing Enterprises and Grafix Unlimited.
In addition to running for the championship in Limiteds at Motor Mile Speedway, Cockram hopes to run the Myrtle Beach 400 Late Model Stock Car and Limited Late Model races, the Thanksgiving Classic at Southern National Motorsports Park as well as Martinsville in a Late Model Stock Car, if he can work it out with Pulliam to make it happen with that team being stretched thin during the big event.