Very few people wanted to win at Martinsville more than Barry Nelson – the owner of the car piloted to victory lane by Timothy Peters in the ValleyStar Credit Union 300 on Saturday night.
Nelson is a long-time resident in Martinsville, Virginia who owns multiple car dealerships and has sponsored drivers in Late Model Stock Car racing for many years prior to becoming a team owner a few years ago.  Being a longtime resident, Martinsville Speedway means the world to Nelson – and so did Saturday's win.
"Being in Martinsville, it means a whole lot," Nelson said.  "We understand the promise of that race.  I used to go when I was a kid and I understood how hard it was to win those races.  Even the Cup guys will tell you one of the hardest races to win is Martinsville."
After the race, Timothy Peters, who previously won the ValleyStar Credit Union 300 back in 2005, said he would give the grandfather clock to Barry Nelson.  Nelson said the clock will be going on tour, along with Peters' winning racecar, at his various dealerships and shops across the region.
"It's sitting in the showroom of the race shop right now," Nelson remarked.  "I'm probably going to get Timothy's car back in shape, get the bruises off of it and put the car and clock in a couple dealerships, move it around.  I want the community to enjoy it for a while.  I want everybody to see it and have a good time and enjoy it and see what these guys win when they win at Martinsville.  The crowd was massive on Saturday night."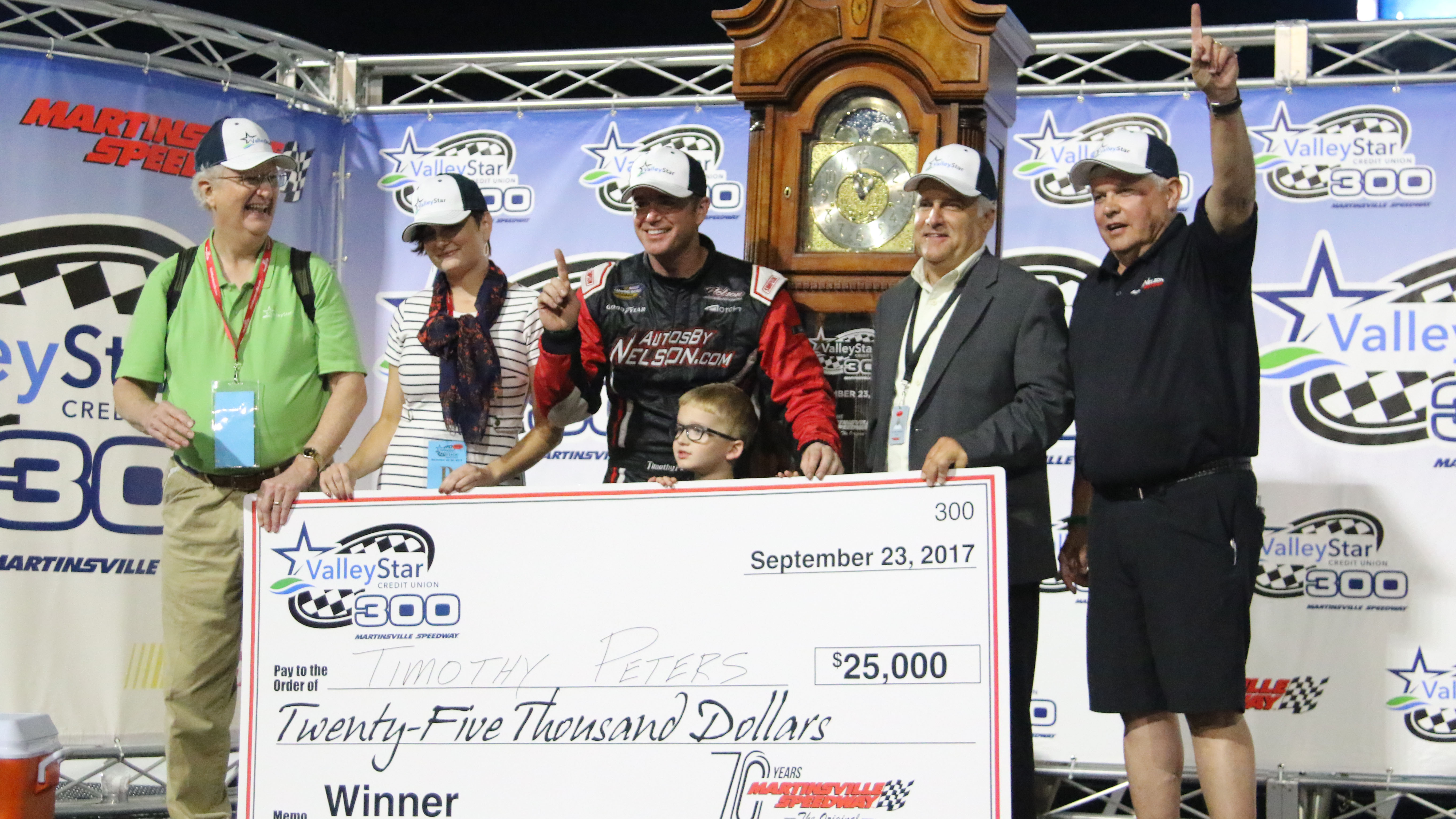 In a few short years, Nelson's race team has become an elite force in Late Model Stock Car racing in Virginia.  Earlier this year, Bobby McCarty pulled off a surprise victory in the Hampton Heat 200 at Langley Speedway, the first of Late Model Stock Car racing's majors.  Then, Peters won at Martinsville and, with it, won the Virginia Triple Crown.
"We worked hard at it," Nelson explained.  "We've got the equipment and you know we're trying to bring on a few people.  I was proud of Timothy winning and Brandon Pierce, finishing ninth as a sophomore and he didn't make the field last year.  He's been racing with us for two years and finishes ninth in one of the toughest races in the nation, that was pretty impressive.  Timothy winning is vindication for us."
Nelson talked about Peters' spirit and how it resonated with him and the team.
"I don't know if we had the best car, but he refused to lose," Nelson stated enthusiastically.  "He was not going to lose that race.  He got himself in position.  His determination, he refused to lose.  I've been with him for five years and it was one of his best races I've ever seen him run.  I hope he gets another chance."
Nelson added that he would be sponsoring Timothy Peters in his upcoming NASCAR Camping World Truck Series start at Las Vegas Motor Speedway.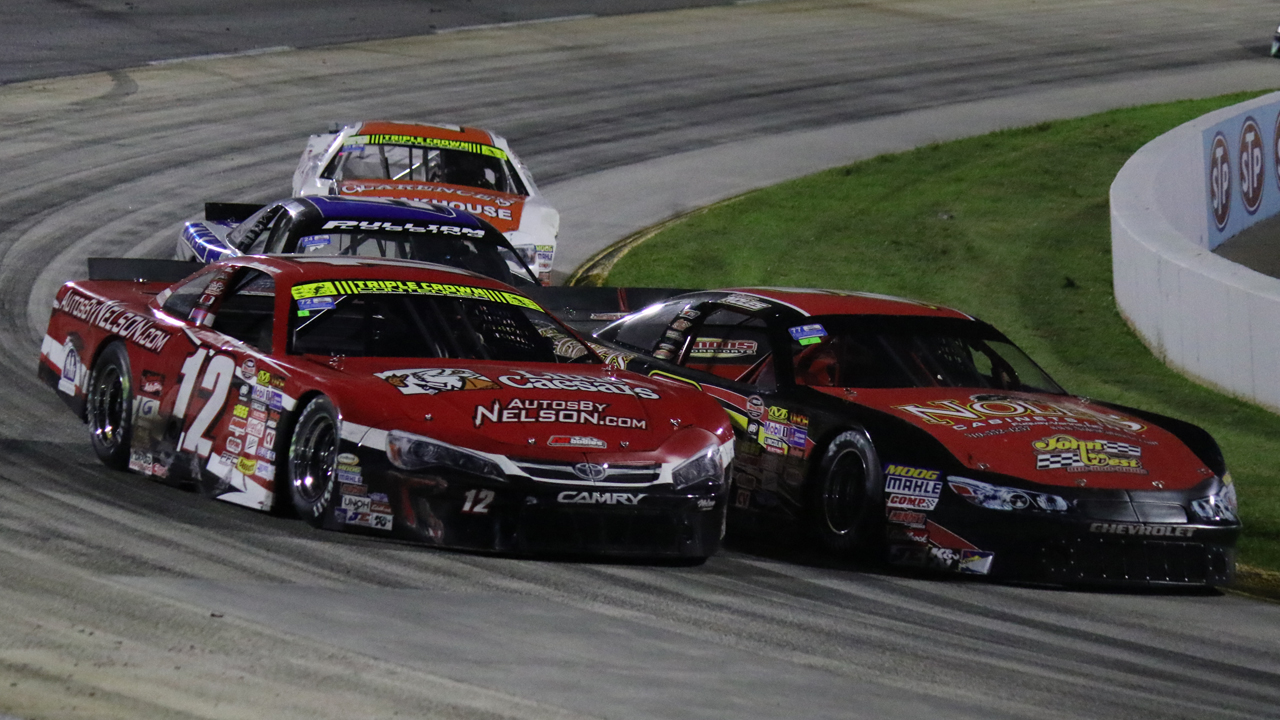 Nelson also talked about Bobby McCarty and how he has worked with McCarty in giving him equipment that can win training McCarty to harness his talent.  When McCarty joined the team late last year, Nelson compared him to a bull in a china shop but, since then, McCarty has become methodical and appears poised to become one of Late Model Stock Car racing's elite competitors over the years to come.
"He's come a long way and matured," Nelson commented.  "We've coached him up and he knows how to drive."
Nelson has always wanted to look good and perform well.  This season, his team is doing just that.
"We build good equipment," Nelson said.  "I don't like to brad but our equipment is as good as anything out there.  I think it's the best.  Our cars, we take pride in what we put on those tracks and we take a lot of pride in what we look like.  Now, what we look like and how we run, how we run is catching up to how we look."
Nelson said he is looking at other versions of racing and other opportunities instead of simply staying stagnant.
While work continues, right now, the local car dealership owner is on top of the world as the winning car owner in Late Model Stock Car racing's most prestigious race.