After a thrilling series of races that saw Timothy Peters hold off Lee Pulliam, Peyton Sellers, and several others to pick up his second ValleyStar Credit Union 300 victory, Late Model competitors from all around the east coast are once again preparing to contest for the Virginia Late Model Triple Crown. Created in 2012, the Virginia Late Model Triple Crown has attracted many of the greatest drivers in Late Model competition, with past champions including Sellers, Pulliam and C.E. Falk III.
The first race of the 2018 Virginia Late Model Triple Crown Series will once again take place at South Boston Speedway for the Thunder Road-Harley Davidson 200. Built in 1957, South Boston has earned a reputation of being one of the centerpieces of the Virginia Late Model scene, with the long list of champions at the facility including names such as Geoff Bodine, Elliott Sadler, Jack Ingram and Philip Morris, the latter of which currently leads the track's Late Model standings by 30 points.
Morris is projected to be one of the favorites in Saturday evening's Late Model feature alongside familiar faces like Bobby McCarty and Matt Bowling, but one driver that is looking to outrun the veterans at South Boston is Jason Barnes. The Stony Creek, Virginia native has been a contender at South Boston all season, and he hopes to find similar success when the green flag drops on Saturday evening.
"We're coming off some very strong finishes," Barnes said. "We tried a little bit of a different set-up last week, and it was just good, but not quite as good as it has been. We're going to go back a little bit, we're going to try a few things in practice, and hopefully we can gain on it. We are right there, but we are just a tick off, and we feel like we can run in the Top 5 if everything goes right."
The sport of auto-racing has always played a huge role in Barnes' life, as he only lived a few miles from the now-defunct Southampton Speedway, but he initially chose to play baseball over driving go-karts after receiving several college scholarships. Once he graduated, Barnes decided to retire from baseball in order to focus solely on racing, electing to use the #28 to honor his favorite NASCAR driver Davey Allison.
Barnes' racing career officially began at Southside Speedway in Midlothian, Virginia, where he gradually moved up through several divisions of the track's weekly racing series before making the jump to race Late Models on a regular basis. However, Barnes was eager to display his talents against the best Late Model drivers in the state of Virginia, which motivated him to switch over to South Boston Speedway's Late Model division.
Although Barnes had utilized his own equipment for most of his career, he elected to collaborate with Lee Pulliam near the end of the 2016 season after Pulliam asked him to pilot one of his cars in the season-finale at South Boston. Barnes, who had been averaging Top 15 finishes at the track, noticed immediate improvement with Pulliam's equipment, as he brought home a 7th place finish in that race, which ultimately convinced him to continue his partnership with the four-time Whelen All-America Series champion.
Barnes did not get many opportunities to display the speed of his car with Pulliam's support in 2017, as a busy work schedule and a lack of funding prevented him from racing as much as he wanted to. However, Barnes received more financial backing for the 2018 season, and although the season got off to a slow start for him, he has since rebounded to be one of the top Late Model competitors at the track, with his last three races all resulting in a 4th place finish.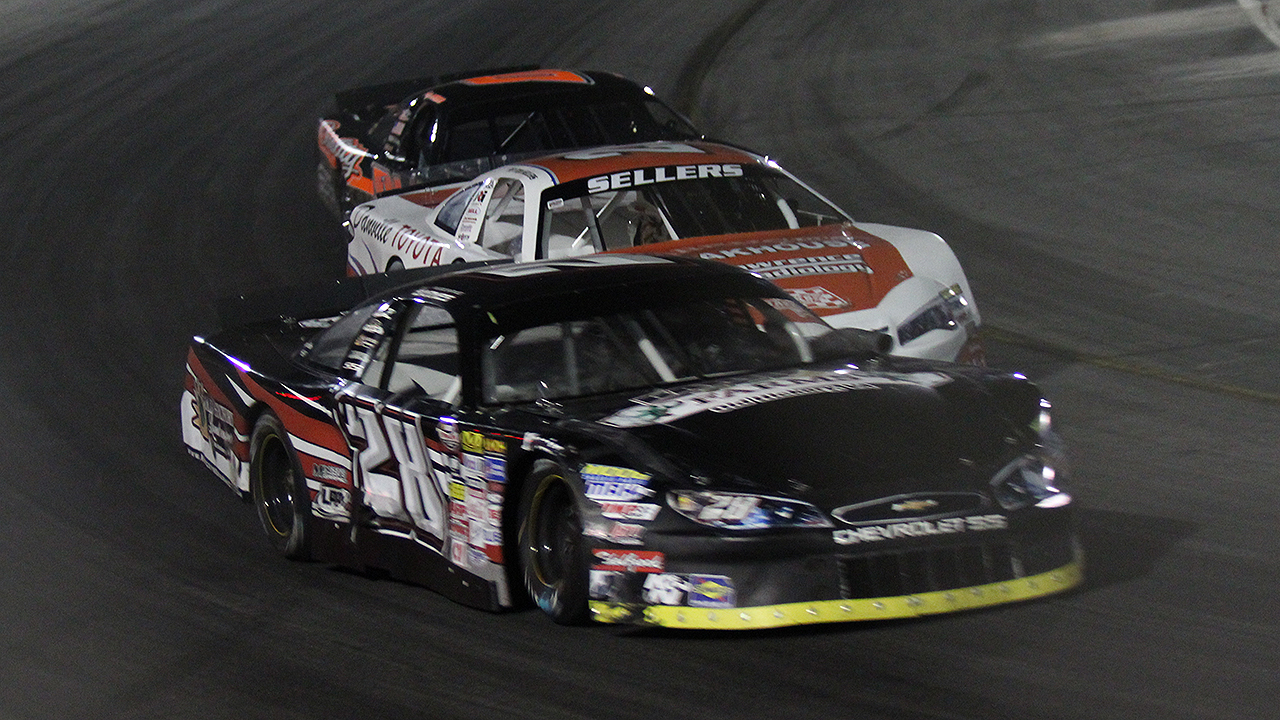 Barnes has been thankful for the support that Pulliam has provided him over the past several months, adding that he would not even be thinking about winning races if Pulliam had not offered him a ride. Pulliam, who is a three-time winner in the Thunder Road-Harley Davidson 200, has provided Barnes with several pieces of advice on how to get around the track, which includes saving tires and exercising patience all the way until the end.
"I've gotten a ton of experience from Lee," Barnes said. "He's just one of the best at South Boston, and he's given me a bunch of good pointers on how to get the most out of a racecar. I always I thought I knew how to get the most out of it until he would come over the radio and give me a pointer here and there, and we would gain a tenth or two. You have to have really good equipment to run with the big boys, and he has given me the opportunity to do that."
Despite having support from Lee Pulliam Performance, Barnes knows that it will be extremely difficult to defeat the other four-time Whelen All-American Series champion in Philip Morris, who has been dominating the Late Model features at South Boston, winning six out of eight races so far this year. However, Barnes is confident that he can keep up and battle with the Sellers Racing Inc. and Nelson Motorsports cars but added that track position will decide how his race turns out.
"You're going to have to qualify pretty decent, and you're going to have to ride and stay inside the Top 10 for the first half of the race," Barnes said. "If you can save a little bit of tires with about 50 to 75 to go, then I think anybody can have a shot at it. It's going to be hot, people are going to be exhausted and there will be some drivers who fall to the back, while others move to the front. Our car has such good balance that if we get a really long run at the end of the race, then that will be our strong point."
After the Thunder Road-Harley Davidson 200 at South Boston Speedway concludes, Barnes will run both the Hampton Heat and the ValleyStar Credit Union 300 in order to pursue the Virginia Late Model Triple Crown Series championship. Even if Barnes fails to win a single race in the series, if he can obtain the best average finish among eligible drivers, he will add his name to the short list of notable champions in the series and bring home the $10,000 grand prize.